It is official: the Putin marriage is over.
Unofficially it has been the reality for several years. Rarely seen together in public, it was usually at Easter in the splendor of Russia's national Cathedral of Christ the Saviour that the public might see the couple standing side by side, as in 2011 and 2008. Mr. Putin attended services alone, standing by Dmitry and Svetlana Medvedeva in 2010 and 2009.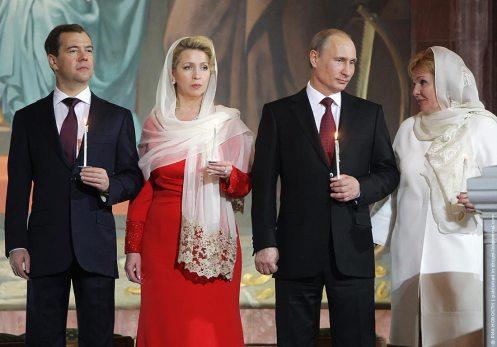 Easter 2011, Moscow's Christ Cathedral.
Outside of the occasional greeting of visiting foreign leaders, one could count on one hand the public sightings of the two together. That would include Easter 2011, casting their ballots in the presidential election of March 2012, the presidential inauguration in the Kremlin Grand Palace (followed by the ceremonial blessing in the Kremlin's ancient Annunciation Cathedral), and the funeral of Patriarch Alexi II in 2008. They usually spent Christmas holidays apart; Mr. Putin spent Christmas alone in a village outside Moscow last year.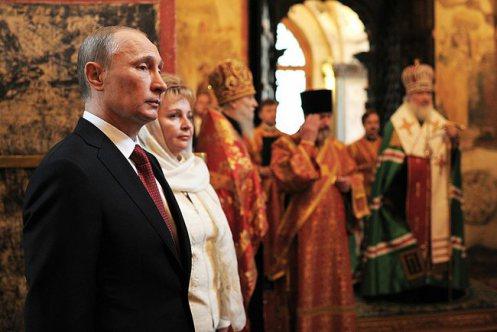 2012 Presidential inauguration, Kremlin Annunciation Cathedral.
Journalists knew better than to inquire about family matters, so when President and Mrs. Putina granted an interview last night to state television channel Russia 24 after taking in the first act in a performance of the Esmeralda ballet, the announcement came as a surprise. The Russian people have for some time sensed the end of the marriage, yet conservative attitudes held that the public had come to expect the couple to maintain silence on the issue while in public office.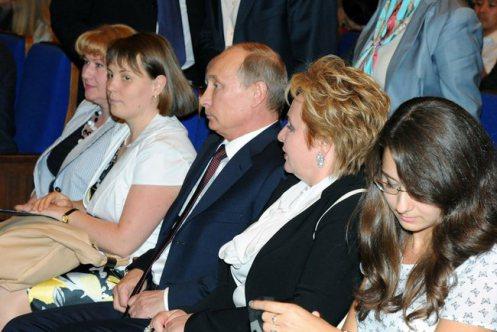 Vladimir and Lyudmila attended the first act of the Esmeralda ballet in the Kremlin Grand Palace.
There they stood, she watching him intensely, at they approached a camera crew in the Grand Kremlin Palace. Mr. Putin spoke first and then Lyudmila. In less in a minute it was clear that the marriage was over. In the words of the gracious Lyudmila, "our marriage is over because we barely see either other…our children are grown…we simply don't see either other."
Mrs. Putina's comments lasted a scant 19 seconds, yet twice she mentioned that they never see each other, a point that while obvious still struck this reporter as sad for both of them.
Lyudmila Putina will fade from view, of this we are certain. The rare days of seeing her at official functions, mostly of Mrs. Putina holding one of their dogs when foreign dignitaries visited the presidential residence at Novo-Ogaryovo outside Moscow, are over. Both dog lovers, the two pledged to remain friends–but no word yet on what happens to the family pooches: Koni, Yume and Buffy.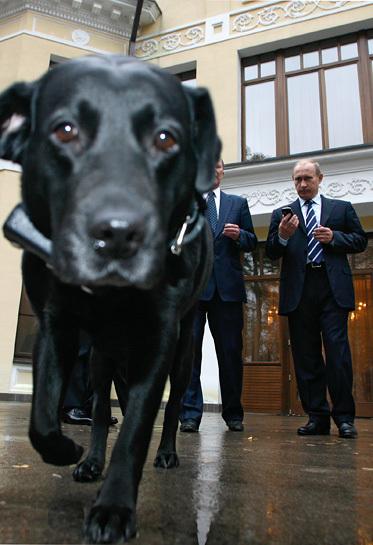 Koni wears a Russian global navigation satellite system collar called GLONASS.
Koni is a hit with journalists–so much so that the presidential press office had to issue a friendly but official request from Mr. Putin asking journalists not to feed Koni. "Sometimes, Koni leaves a room full of journalists with a very pleased expression on her face and biscuit crumbs around her mouth…Please don't feed my dog."  Koni was born in 1999 and is frequently at President Putin's side when greeting foreign dignitaries at his office in Novo-Ogarvovo.
Mrs. Putina is considered to be a specialist in Russian language and is expected to continue her work on preserving the integrity of the language.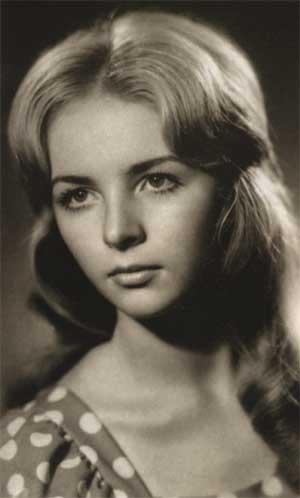 An airlines stewardess in the early 1980s, Lyudmila Shkrebneva (Putina).
Vladimir Putin and Lyudmila Shkrebneva met in 1980 and dated three years prior to their  marriage on 28 July 1983. He made a promise to stay out of the KGB but it wasn't long before the new Mrs. Putina, a trained linguist, found herself learning to speak German fluently when they moved to East Germany where Mr. Putin oversaw the East German state security apparatus.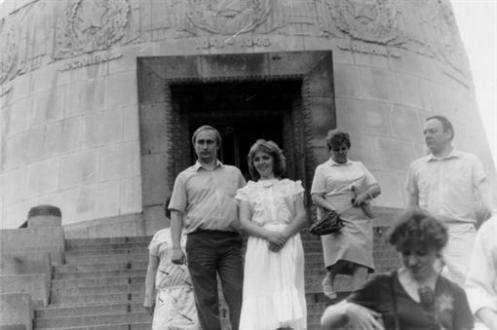 The Putins in the East German Democratic Republic.
Although clear that the two lived separate lives for years and while rumours swirled regarding Mr. Putin's supposed affairs, he scrupulously wore his wedding band and if Lyudmila was mentioned in conversation his comments while brief have been respectful.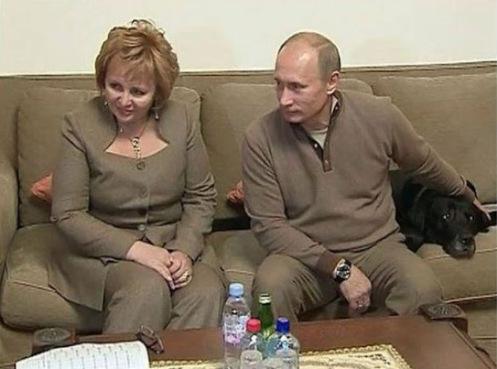 The Putin's with their older dog, Koni, a black lab.
The couple was last seen together in public for his inauguration of his third term as president on 7 May 2012. Their divorce announcement came at the same place, the stately Kremlin Grand Palace.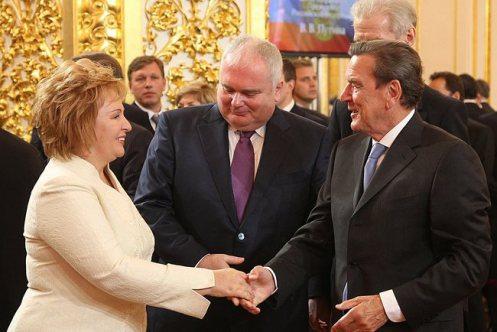 2012 Inauguration, Mrs. Putina greets Germany's Gerhard Schroder.
Some speculated over recent years that Mrs. Putina had "taken the veil" and entered a woman's monastery–something that might have been a more common form of banishment for royal wives during the years of the Russian Empire.
Russian media is the past had speculated that Mr. Putin maintains an affair with Russian gymnast Alina Kabayeva . The Russian newspaper that first reported the story, Moskovsky Korrespondent, was shut down soon after the story was published.
The Putins have two daughters, Maria is 27 and Yekaterina is 26, and both girls live and work in Moscow although the press is denied access to them. The two daughters attended German-language schools and then studied under assumed names at the State University in Saint Petersburg where Maria studied biology and Yekaterina majored in Asian Studies. Both are rumoured to be romantically involved with foreigners.