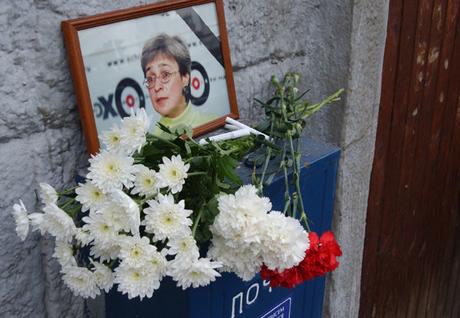 Yesterday was a solemn reminder that life can be cut off quickly, without warning. It was 11 years ago on 07 October 2006 that journalist Anna Politkovskaya (Анна Политковская) was gunned down in cold blood at the elevator entryway to her apartment house. It was President Putin's birthday.
She reported on human rights abuses in Russia and was a courageous lady who refused to back down despite constant threats. Anna wrote for the newspaper Novaya Gazeta (partially owned by Mikhail Gorbachev), a Russian newspaper that was frequently critical in its investigative coverage of Russian politics.
She and I were only 3 years apart in age. Anna was a dual citizen who was born just three years and 4 days after myself. She was an American citizen, born in New York City as her parents were Soviet (Ukrainian) diplomats at the UN. Anna was a graduate of Moscow State University.
In 2004 she was poisoned when given something to drink during a flight from Moscow to Rostov-on-Don as she traveled to report on the Beslan school hostage crisis. In critical condition, she was rushed back to Moscow but survived. Her book "Putin's Russia: Life in a Failing Democracy, A Small Corner of Hell" was published that year.
After her death she has continued to be awarded honours for her writing and the list of awards reads as a "who's who" of International journalism. The College of Europe in Belgium renamed itself as the Anna Politkovskaya College for the 2007-2008 term in her memory.
In September of 2016 Russia's Investigative Committee (Russian version of the FBI) declared that her murder had been solved, despite the fact that it is still unknown who ordered her murder. Russia's statue of limitations on murder only lasts for 15 years and the Investigative Committee has no interest in pursing the case further.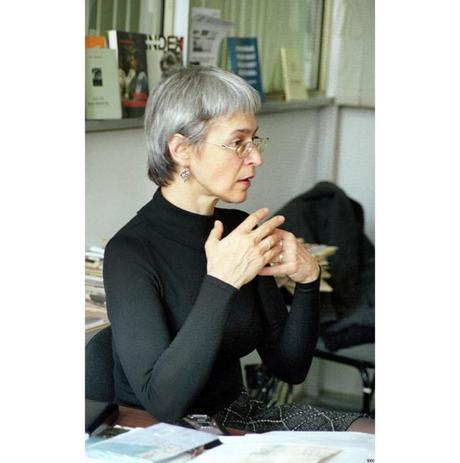 The documentary film "211: Anna" was so-named because she was the 211th journalist killed under unsolved or mysterious circumstances under the Putin government. Other films about her life include "Letter to Anna" and "A Bitter Taste of Freedom."
Anna had a way of smiling, even when in danger. It was a beautiful smile. She admired the human spirit and wanted everyone to have the same dignity and human rights as enjoyed by those in power. May her work, and her smile, be remembered and may God grant her eternal memory.