How many of you have kids at home out of school for the summer wandering around the kitchen looking for something good to snack on? These days kids aren't as lazy in the kitchen as they used to be. When I was a kid (back in the 60's and 70's), something like making a smoothie for myself wasn't even a consideration – too much work for me and my friends! We'd rather ride our bikes 5 miles to the nearest convenient store and pick up something bad for our health!
I work with a mother of two children who often enjoy running local 5k's with us. I asked her if they drank protein shakes or smoothies in her house and she said yes, so I thought I'd let her try some chocolate flavored Purely Inspired 100% plant-based protein mix. I learned a couple of things in the process: (1) her daughter not only makes her own smoothies, she uses good choices in making them (and she takes good photos too!); (2) you can slice bananas and freeze them in advance so they are like ice cubes in your shake; and (3) chocolate protein mix doesn't always turn brown!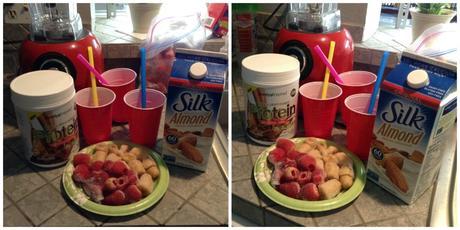 It's really nice that my coworker doesn't have to worry about whether or not her kids are eating properly while she's working in the summer. These kids are enjoying a great protein smoothies and really know their stuff too. I need to start taking lessons from these kids.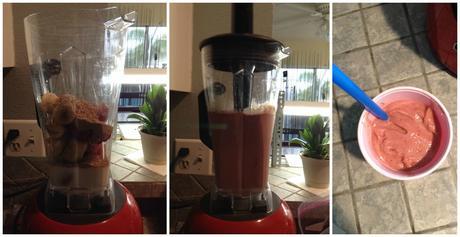 Here's what Purely Inspired says: "Purely Inspired 100% Plant-Based Protein Nutritional Shakes contain no artificial flavors, colors, or sweeteners, and are dairy, gluten, and soy free. Featured in a trio of delicious and tempting flavors – Chocolate, Vanilla, and Very Berry – the shake is so convenient to take at home, work, or really wherever your day takes you. It's the perfect nutritional protein shake to fuel your busy days – and, best of all, it's made from ingredients you can trust."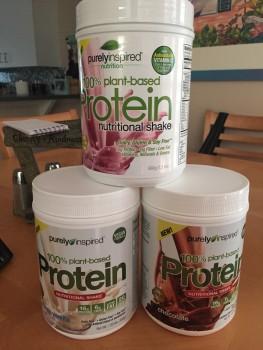 Purely Inspired makes a line of dairy, gluten and soy free powders that are 100% plant based. In addition to 16 grams of plant based protein, each serving contains 6 grams of fiber, and more antioxidant vitamin C than 5 servings of fruits and vegetables. Their greens are a concentrated blend of broccoli and spinach. They contain Omega-3 fatty acids from flaxseed, digestive enzymes, vitamin B6 and B12, and chromium, just to mention a few choice vitamins and minerals. They have 19 vitamins and minerals, are no more than 2.5 grams of fat per serving, and they are Stevia sweetened.
You can head over to Purely Inspired's website to find out where to buy this product! I know at my local Sam's Club they are finally carrying it, because I saw it there last weekend! Be sure to connect with them on their Facebook and Pinterest pages too!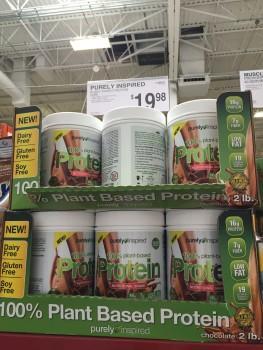 I received the products mentioned above without cost in exchange for my honest review and unbiased opinion. Regardless, I only recommend products or services I use personally and believe will be good for my readers.
~ ~ ~ ~ ~ ~ ~ ~ ~ ~ ~ ~ ~ ~ ~ ~ ~ ~

It would be great if you would stay connected with me!! You can follow me on Twitter @DebiL1611, like me on Facebook at 2014 and Beyond, circle me on Google+, follow me on Tumblr, Instagram and Bloglovin', subscribe on YouTube, or connect with me on LinkedIn and Pinterest.

Please make sure to visit my homepage and subscribe to my blog for more great posts on running, fitness and lifestyle topics as well as food, product, music and book reviews, and more!