Who says you can't have dessert for breakfast? Or for that matter, who says you can't have dessert any other time of day? This berry crumble looks and tastes like cobbler but it actually has the perfect nutrients for a healthy breakfast or snack during the day!
I found this great recipe on the internet, took it to my aunt's house this past weekend because she bakes.  We tweaked it for my liking and gave it a try. The prep time for this Raspberry Crumble was about ten minutes tops, and that counted pulling everything out of the pantry and putting it on the counter. It was in the oven for 15 minutes and then one additional minute.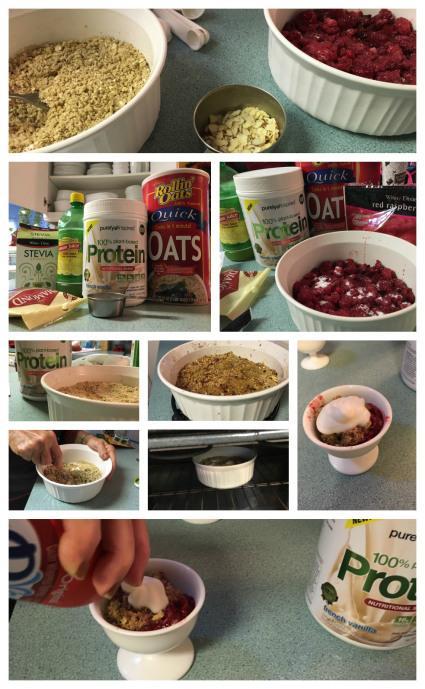 I'll be honest with you – I didn't read the entire recipe before I started. I was kind of hoping my aunt would take over and do the recipe for me but that wasn't how it turned out.  By not reading the whole recipe, it caused some problems with my end product, so I'll share the specifics of my "fails" so your raspberry crumble will be perfect!
  *  If you are using frozen raspberries, make sure they are defrosted ALL THE WAY, not semi-defrosted, gulp.
  *  If you are making this for lots of people, each recipe portion should be put into small forms and several raspberry crumbles should be made instead of doubling the recipe and pouring it all into a bigger bowl, such as I did. If you make several smaller raspberry crumbles, your raspberries won't be overcooked (like mine were) before the center of the crumble is done. Your raspberries will stay firm and not cook into mush-like jam, or worse yet, burn!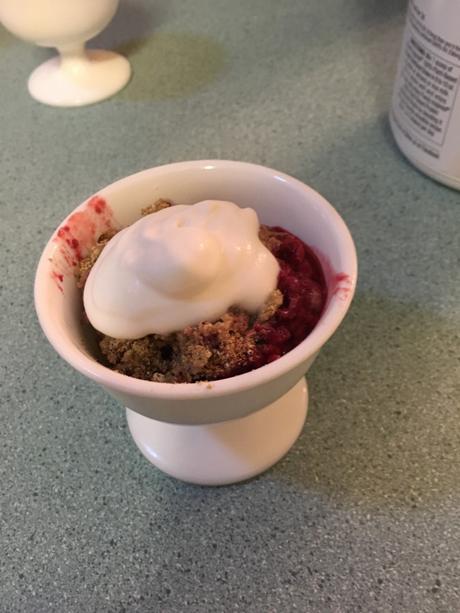 Purely Inspired Raspberry Crumble 2015-10-07 19:46:04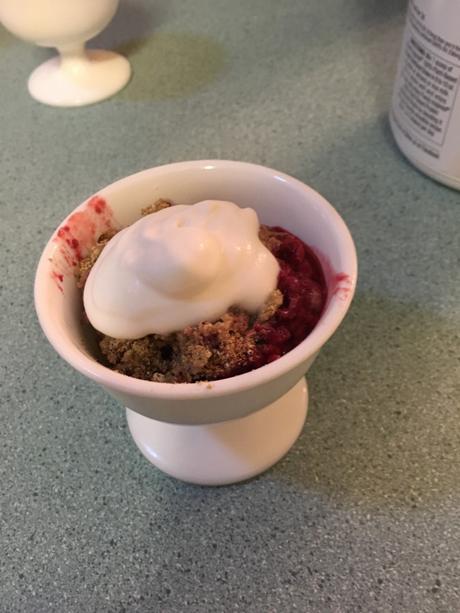 This raspberry crumbles looks and tastes like a crumb cake, but is actually has the perfect nutrients for a healthy breakfast or snack! Write a review Save Recipe Print Prep Time 10 min Cook Time 15 min Prep Time 10 min Cook Time 15 min Ingredients
1 Cup (125 g) Raspberries
1 Tsp. Stevia
1 Scoop Purely Inspired Plant Based Vanilla Flavored Protein
1/4 Cup (20 grams) Oats
6 Tsp. Lemon Juice
5 Chopped Almonds
Instructions
Preheat oven to 350F (180C)
Place raspberries in small Pyrex pan and sprinkle the Stevia over the top
In separate container, Combine Purely Inspired Plant Based Vanilla flavored protein, oats and lemon juice with a fork. (It should end up a fairly dry crumble.)
Mix in almonds and spread across the raspberries
Bake for 15 minutes, then set over to broil and give the crumble about 1 minute more until the top is slightly golden
Take out of oven and enjoy
Notes
If you aren't worried about additional calories, you could add whipped cream or even better, some vanilla ice cream!
By 2014 and Beyond! 2014 and Beyond http://14-in-2014.com/
Lucky for me (and you), Purely Inspired protein mix comes in chocolate, strawberry and vanilla, so I will continue to try various recipes I create and/or find on the internet and if they taste halfway decent, I will share them with you!
Be sure to check out Purely Inspired's website to find out where you can pick some protein mix up for yourself======>by clicking HERE!! 
~ ~ ~ ~ ~ ~ ~ ~ ~ ~ ~ ~ ~ ~ ~ ~ ~ ~

It would be great if you would stay connected with me!! You can follow me on Twitter @DebiL1611, like me on Facebook at 2014 and Beyond, circle me on Google+, follow me on Tumblr, Instagram and Bloglovin', subscribe on YouTube, or connect with me on LinkedIn and Pinterest.

Please make sure to visit my homepage and subscribe to my blog for more great posts on running, fitness and lifestyle topics as well as food, product, music and book reviews, and more!