Starting back in 2009, I have been using protein shakes as a meal replacement for my breakfast every morning. At the beginning, I started with a pre-packaged protein shake that I would take out of the refrigerator, shake up in my hand, and drink. Later, as I got more interested in what I was ingesting, I started trying different protein powders - soy, whey, plant based and the like. For the past nearly three years, I've been using what I found to be my favorite protein powder, but I'm always open to trying something new.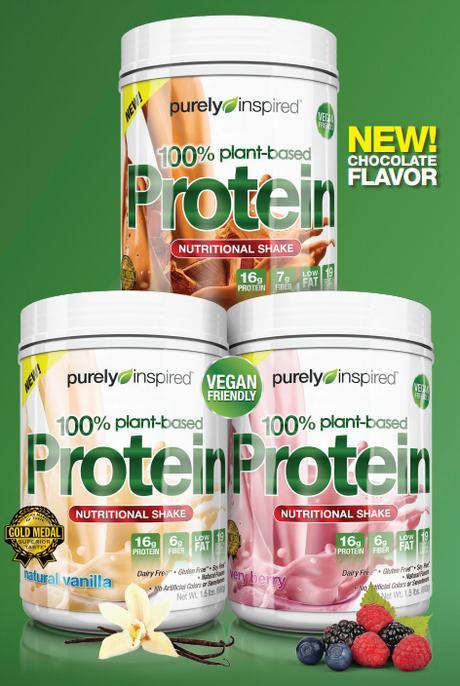 These days I hear so much about plant based protein, so when this plant based protein mix by Purely Inspired became available for review, I requested a sample. What I received were three HUGE containers - two strawberry and one chocolate! WOW! What initially sparked my attention - I'll be honest here - is that NASCAR driver, Danica Patrick backs this product!
Every company these days seems to make some kind of protein powder, whether it's pea, rice, casein, vegan, and all the companies claim that theirs is the best. I feel like I've tried almost every one of them out there until another one turns up. Whenever I try a new protein mix, I try to compare "apples to apples" and make a protein shake exactly as I do with my favorite mix so that I can properly and accurately compare the product against my favorite. I also use protein mix in various recipes, but because I started off with a meal replacement breakfast shake, I prefer to continue that routine to be fair to all involved. Unfortunately, Purely Inspired was out of vanilla, which is my usual flavor, so I used the Strawberry for comparison purposes.
I start with crushed ice, I had 50/50 orange juice, some lemon juice, the protein powder, and some fruit. I blend it in the blender and I enjoy the heck out of the shake! I usually find that I am not hungry until lunchtime. This shake did not fail! It performed exactly as my favorite shake, and I was very pleased. (I am really looking forward to trying their vanilla so I can make a final determination on whether I will actually make the switch to this product entirely.)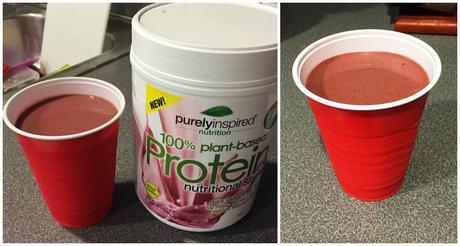 Purely Inspired makes a line of dairy, gluten and soy free powders that are 100% plant based. In addition to 16 grams of plant based protein, each serving contains 6 grams of fiber, and more antioxidant vitamin C than 5 servings of fruits and vegetables. Their greens are a concentrated blend of broccoli and spinach. They contain Omega-3 fatty acids from flaxseed, digestive enzymes, vitamin B6 and B12, and chromium, just to mention a few choice vitamins and minerals. They have 19 vitamins and minerals, are no more than 2.5 grams of fat per serving, and they are Stevia sweetened.
You can head over to Purely Inspired's website to find out where to buy this product, or you can just go to Amazon and pick it up! Be sure to connect with them on their Facebook and Pinterest pages too!
I received the products mentioned above without cost in exchange for my honest review and unbiased opinion. Regardless, I only recommend products or services I use personally and believe will be good for my readers.
Please make sure to visit my homepage and subscribe to my blog for more great posts on running, fitness and lifestyle topics as well as food, product, music and book reviews, and more!