I've been over the whole crackle thing for a long time now. In fact, I don't even know if I ever really liked it. I can only think of one time that I left crackle on my nails for more than a day. Somehow, this one blew me away! When I first got the press release email, I instantly loved it and hoped it was going to be awesome in reality. It is.
Here is the promo shot for the Year of the Dragon (ShowStopper - Crackle Duo Gold and Red) set by Pure Ice: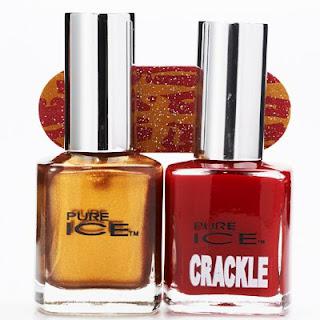 From the press release:
"In 2012, Chinese New Year Day will be celebrated on January 23. The New Year festival will start from January 22 (Chinese New Year' Eve) and end on February 6 (Lantern Festival). 2012 marks the 4710th Chinese New Year, and this time it is the Year of Dragon according to the Chinese zodiac calendar.
The Dragon is the 5th sign of the Chinese zodiac and it is regarded as an auspicious symbol which stands for power, good luck, success, and happiness.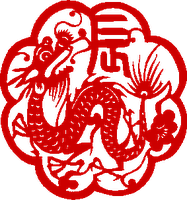 Since ancient times, the Chinese New Year was considered as the time to honor ancestors and heavenly deities. In addition, it was the time to organize family gatherings and grand feasts.
There is a legend associated with the celebration of New Year in China. There was a monster named Nian who used to harass the villagers by eating their crops, cattle and taking away their kids. The villagers had no other option but to place food at the entrance to their homes so that the monster would eat it and go away without harming them.
One day, the villagers realized that the monster was scared of red color. So, they adorned their doors and windows with red paper cutouts and spring scrolls. The villagers also burst crackers to frighten the monster. Since then, Nian never came again to the village. Hongjun Laozu, a Taoist monk, was the one who captured the beast later on. Since then, the Chinese have been celebrating the capture of Nian on their New Year's Day."
Here is the gold from the set by itself: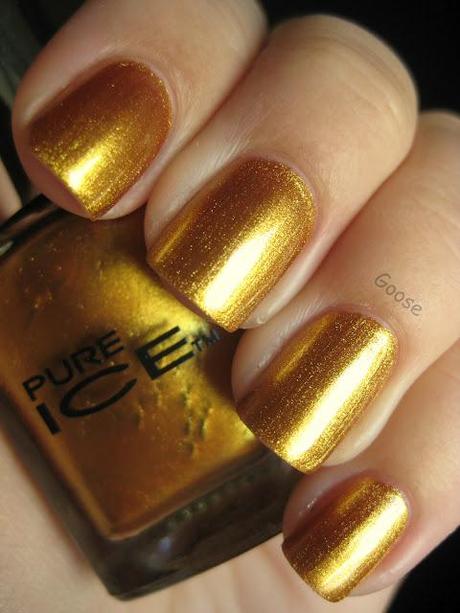 Pure Ice - Gold
It doesn't have a proper name that I can find, but man this gold is pretty! Some may not like it as much because it's a very bright orange-yellow and it may not suit all skin tones as well. It took two coats and was quite easy to apply. This color makes me think of cooking with curry, and the bright yellow color that it turns when mixed in with oil. Now I'm hungry...
But it looks even better with the red crackle over top!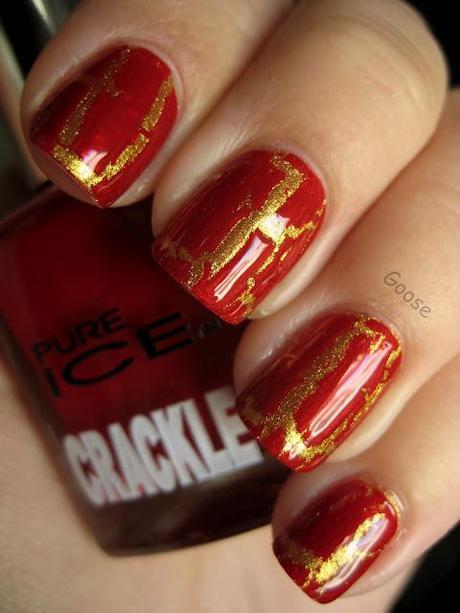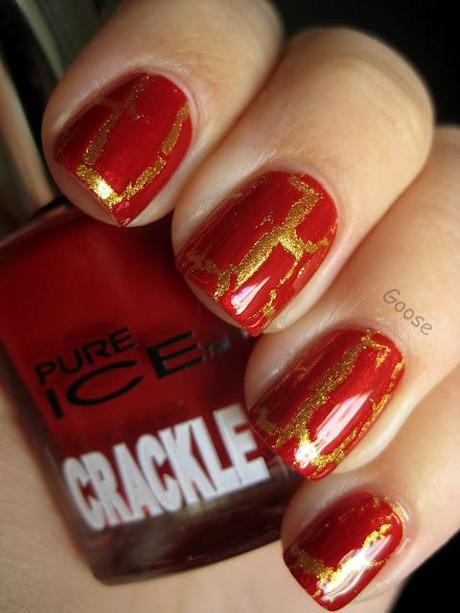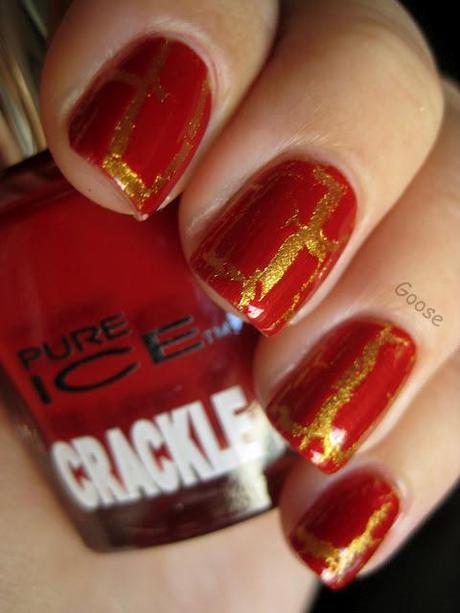 Pure Ice - Gold and Red Crackle
This just FEELS like the Chinese New Year to me. It makes me want to be wandering around Chinatown in San Francisco, observing all the colors and festivities. It's very vibrant and the metallic gold shows through the red just a bit to give it a lot of depth.
This red crackle works just like most of the others, but the result you see was just from a quick, simple application - no special thicknesses or stroke directions. I considered "waving" the brush around to get a more random crackle look, but I thought the normal vertical cracks would be perfect for the Chinese New Year look. So I would say it applies nicely and cracks pretty well.
I decided to try it with a matte top coat (Essie Matte About You):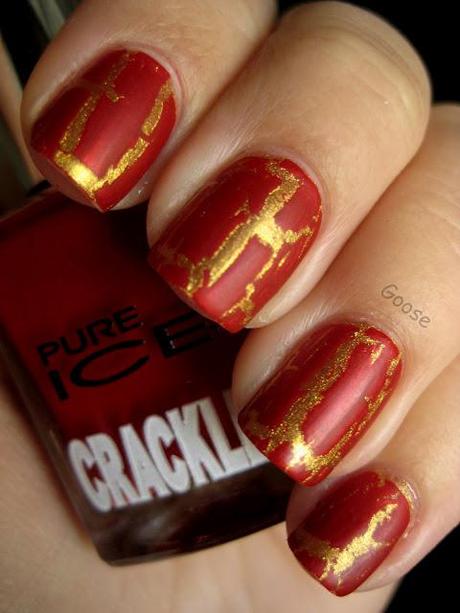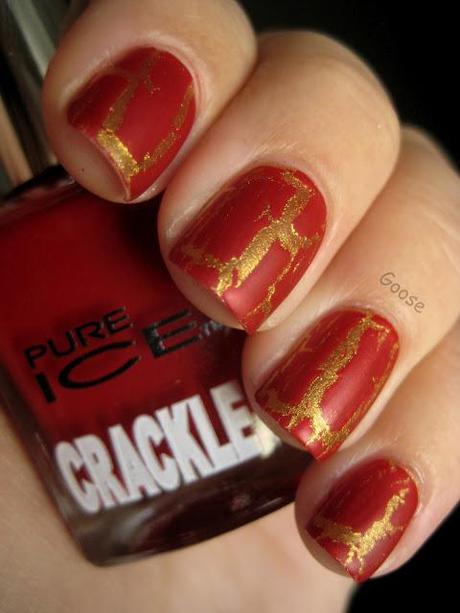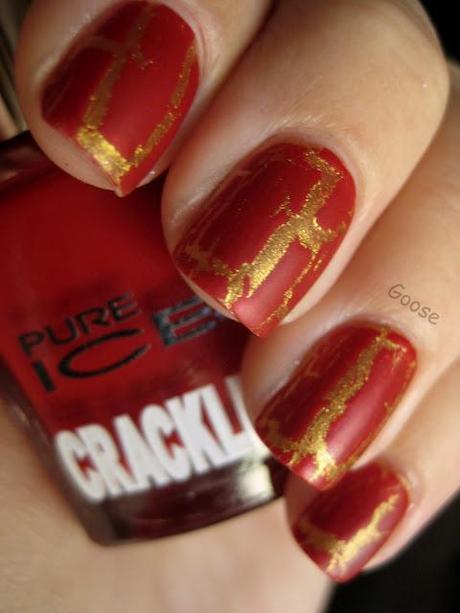 Pure Ice - Gold and Crackle (with Essie Matte About You)
Very nice, too, though I was so in love with the shiny version that I'm just not as impressed with this. It still feels very "Chinatown" to me, and has an awesome effect.
Honestly, I can't believe how much this wowed me. I didn't think I'd find a single crackle combination I actually LIKED, much less LOVED. If all the other crackle polishes in the world disappeared, this is the one combination I'd want to keep.
This set is available on the Bari Cosmetics site as well as at Wal-Mart and Walgreens. I'm not sure on the retail price, but Pure Ice usually runs under $2 each, so I'm sure this one is reasonable as well!
Happy New Year of the Dragon!
(This item was sent to me for review.)