I've heard tales of the slow cooker and its powers.
I've heard of its ability to yield a mean, tough cut of meat into the most tender, and most delicate.
I was drawn and i was curious.
I needed that kind of capacity in my life.
I went to the store and i bought.
A slow cooker and myself. Together, we are ready to embark on some adventure.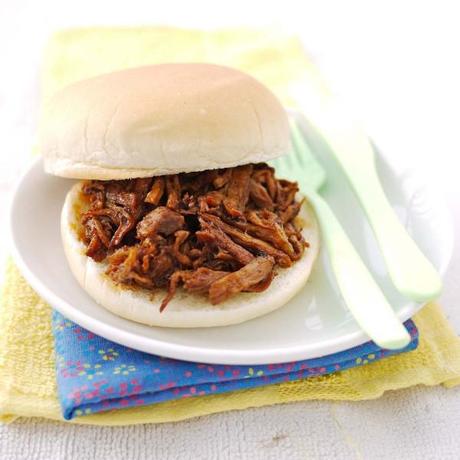 We started our journey with this coca cola pulled pork recipe.
With just three ingredients (pork, coke and bbq sauce), this recipe seemed befitting for a couple of greenhorns.
I've chosen pork shoulder for our first experiment.
Pork shoulder is a relatively cheap cut which usually require lengthened cooking time.
And when i say "lengthened", i mean ALL night long. Literally.  All 8 hours of cooking.
Patience will really come in handy.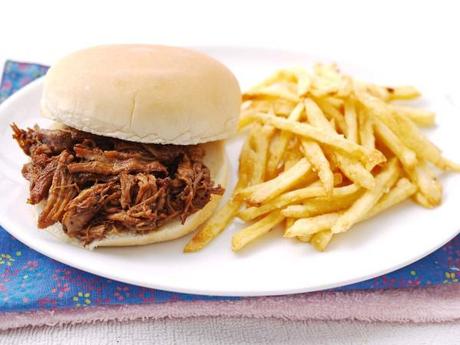 But it will reward too.
Because my pulled pork was not only fork tender, but it was also flavourfully delicious.
And i do think i have a new best friend.
Rejoice Oven and Stove, lets welcome Slow Cooker into the family.
Slow Cooker Cola Barbeque Pulled Beef Or Pork
3 lb. beef or pork roast
1 can Coca cola ( NOT DIET! )
1 – 16 oz. bottle of your favorite barbeque sauce

Trim fat off roast and place in appropriate sized slow cooker. Pour cola over the roast. Cover and cook on low 6 – 8 hours or until meat falls apart easily.
Remove roast from cooker and shred. In a colander set over a large bowl, drain juices from slow cooker and reserve.
Return meat to slow cooker and stir in barbeque sauce. Thin with some of the reserved juices (don't throw them out yet!). Cook for another 1/2 to 1 hour on low or until heated through. Thin with additional juices, if necessary. I like to have the sauce just slightly thin, so some of the sauce soaks into the buns, but not so thin that they get soggy.
To serve, place a good amount of the meat mixture onto the bottom half of a bunand top with the other bun half. Serve with homemade french fries (I did!)