Pudalangai(Snake guard) is one of my favorite vegetables.I like all kind of poriyal(stir fry) and kootu(stews) made of it.But this deep fried fritters with pudalangai is new to me.We celebrated Diwali at our in-law's and while coming back my FIL had brought some really fresh veggies from the local market there for us that too for a very little cost.(I could not even believe when my FIL told 1kg snake guard was being sold at Rs 5!). Some really fresh okra,greens and I am happy to feed my daughter with these fresh veggies.Now coming to this snake guard,I wanted to make something new with them.As they were very tender,I knew removing the inner part is going to be very easy,I thought of making this crispy rings just to attract my daughter.They turned out be very crispy,slightly sweet(best part) and went very well with our lunch.My husband said he got just 2 or 3 taste and everything was gone in seconds at his office :). I really urge you all try this with some fresh snake guards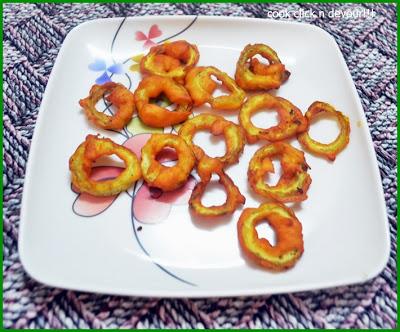 Pudalangai ring bajji recipe
Star ingredient:Pudalangai
Time:20 minutes
Serves:3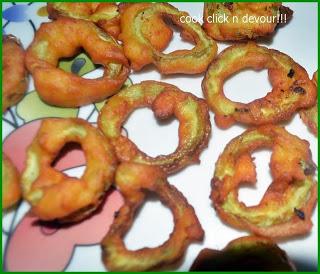 Ingredients:
2 tender snake guard (pudalangai)
4 tablespoons curd
2 tablespoon gram flour
1 tablespoon rice flour
1 teaspoon chilli powder
1 teaspoon turmeric powder
1/2 teaspoon asafoetida
Salt
Oil
Method:
1. Wash and cut snake guard as shown in the pic.Remove the inner seed.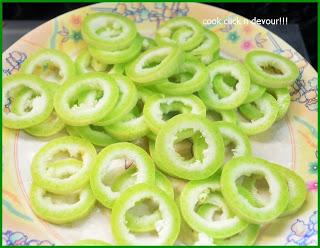 2.Mix all the other ingredients except oil to a smooth batter.Mix in the cut vegetable rings to the batter and keep aside for 10-15 minutes.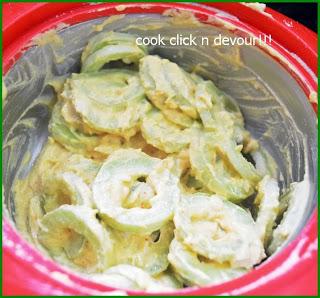 3.Heat a kadai and deep fry the vegetable rings till golden brown from both sides.
4.Drain on a kitchen towel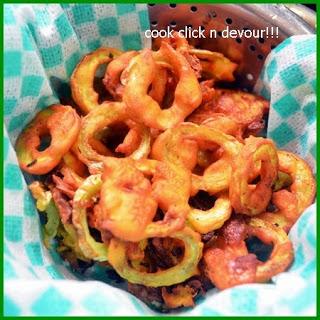 5.Serve hot with rice or serve as snacks with coffee.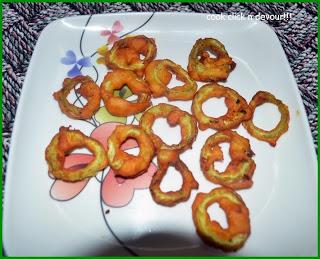 Notes:
1.Using tender snake guard gives best taste.The slight sweetness comes only from tender and fresh vegetables.
2.If you prefer very crisp bajjis include 1/2 teaspoon cornflour to the batter.
3.I have coated the rings with very little as I wanted the vegetable to shine.If you need to make like traditional bajji,make the batter little more thick(decrease curd by 1 tablespoon) and coat the vegetables.