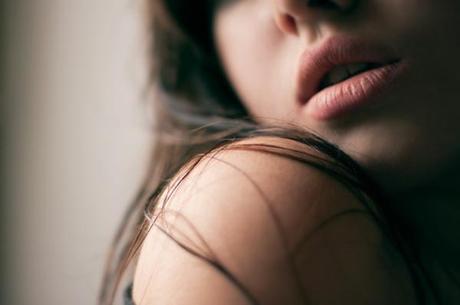 Photo Credit
I have probably walked by
LUSH
a thousand times but never once felt compelled to go in. Maybe it was the earthy smells or the hippie vibes the store gives off. Of course, that was until I came across a post about their lip scrubs. 
This one
specifically. Although we didn't have much of a winter this year, my lips were a bit on the dry and chapped side (most likely from my constant lip biting/licking in a non sexual/nervous energy sort of way). The timing couldn't be better. I rushed to Lush (ha) to try the bubble gum pucker polish. Let me share some important info up front (or misconceptions from my end). There are only two LUSH stores in Toronto. One on Queen Street and the other at the Eaton Centre. They do have expansion plans in the GTA. It isn't a Canadian company. LUSH is based in the UK with an head office in Vancouver. And, they aren't just about soaps and suds. LUSH carries a wide range of hair, face, body products for men and women. Who knew! (Well, you probably did but now I'm all caught up).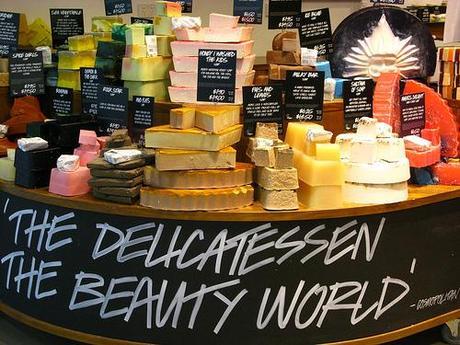 Photo Credit
When I walked in the store, there was a distinctive smell. A little biotic, a little green. It was a combination of earthy, natural, organic goodness. Every LUSH product has a packaged on and expiry date. You don't see that often with beauty products right? And the name of the person who created/mixed it on the back of the product. LIKE! I spent close to an hour chatting with the saleswoman. She was pretty knowledgeable, friendly and obviously good at sales. My shopping bag was filled with some great products. So, if you're in the market for scrubs and lotions, read on. I have a few recommendations for you. 
Lip Scrubs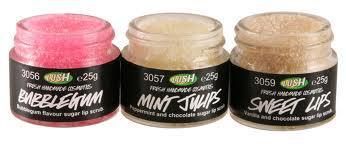 Think raw sugar with essential oils and a dollop of flavor. 100% edible so you don't have to worry about licking your lips as you scrub. Although bubble gum was kinda neat, I picked up Mint Julips. Delicious mix of mint and chocolate, leaving your lips uber soft and totally kissable! 
Body Scrubs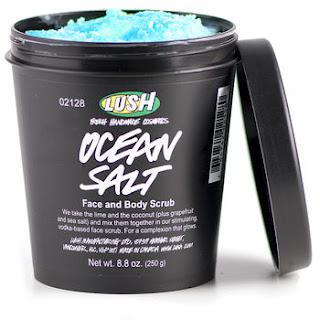 They have a lengthy list of scrubs (and masks). I chose Ocean Salt because I'm a sucker for any product that promises to bring the ocean smell/feel to you. The scrub is a mix of coarse sea salts mixed with avocado and coconut for hydration and lime and vodka for stimulation. It was a great choice because it left my skin smooth and rosy. It can be used a few times a week to clean the pores and dirt. 
Love it!
Soaps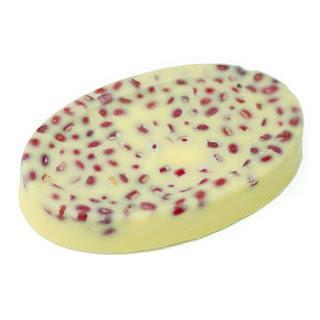 They have so
many many options
for you to choose from. Whatever your ailment, concern, they have a "cure." I wanted to try something a tad out of the ordinary and chose the Wiccy Magic Muscles - Tension Relieving Spice Massage Bar. It is rich - both in smell and texture. The aduki beans act as tiny fingertips massaging your aching body. You will feel strange and you will feel sensations. The soap doesn't wash off completely but it leaves your skin rather hydrated.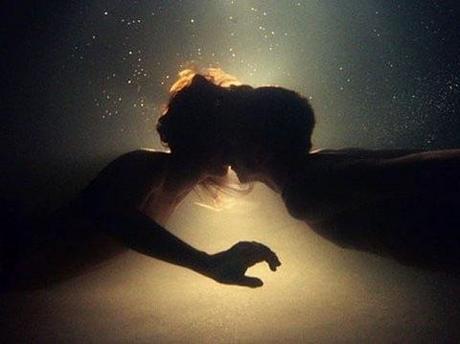 I wanted to get a mask but they were sold out of ALL of them. That's next on my list. If you're like me and you have ignored LUSH all these years, don't hesitate to go in and walk around. The smell may turn you off at first but when you start looking around, you'll be amazed at the number of products that peak your curiosity (including shampoo's and hair masks). When you're done polishing yourself, you'll be ready to pucker up ... maybe under water like the couple above ... ;)
Enjoy!