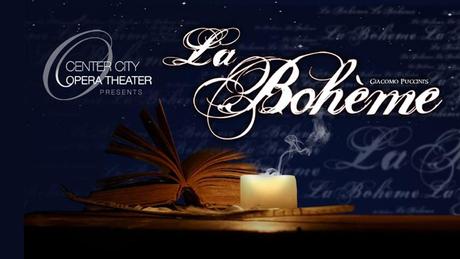 An exciting new production of a classic in downtown Philadelphia
This weekend, Center City Opera Theater presents Giacomo Puccini's beloved classic opera in four acts for three performances – April 13, 14, & 15 at the Prince Music Theater's 446-seat mainstage theater. All shows are fully-staged, costumed, and sung in original Italian libretto by members of CCOT's Young Artist Program.
La Bohème (premiere in 1896) tells the story of a group of young bohemians living in Paris in the 1830's. A poet named Rodolfo and a painter named Marcello desperately attempt to earn a living off their artistic craft. While Marcello goes out to celebrate with friends at a local cafe one night, Rodolfo stays behind to write and meets a young woman named Mimi whose candle has blown out in the stairwell. The two begin a romance while Rodolfo and his old flame Musetta rekindle their own relationship the very same evening. Various romantic relationships soon begin to crumble under the weight of poverty, jealousy, and disease.
Performances are: Friday, April 13 at 8pm; Saturday, April 14 at 8pm; Sunday, April 15 at 2pm. All three performances are in the Gisele & Dennis Alter Mainstage of the Prince Music Theater, 1412 Chestnut Street in Philadelphia. Directions and parking information can be found at OperaTheater.org. Tickets are $39-79 and can be purchased online at OperaTheater.org.
La Bohème features members of Center City Opera Theater's Young Artists Program, a program committed to the career development of talented up-and-coming opera stars. In addition to filling the roster for La Bohème – as well as The Marriage of Figaro this past February – many of these artists perform in CCOT's upcoming productions of Il Postino and Slaying the Dragon. "Symphony in C" will accompany the singers as Center City Opera Theater's orchestra for the 2011-2012 season.
CAST
Rodolfo: David Koh (4/13, 4/15); Christopher Lorge (4/14)
Mimi: Sarah Beckham (4/13, 4/15); Jennifer Hoffmann (4/14)
Marcello: Paul Corujo (4/13, 4/15); Norman Garrett (4/14)
Schaunard: Norman Garrett (4/13, 4/15); Paul Corujo (4/14)
Colline: Martin Hargrove (4/13, 4/15); Andrew Hiers (4/14)
Musetta: Jennifer Braun
Alcindoro/Benoit: Roland Burks
Stage Director: Sandra Hartman (CCOT debut)
Conductor: Andrew M. Kurtz
Lighting Designer: Andrew Cowles
Costume Designer: Amy Chemielewski
Scenic Designer: Danielle McDonald