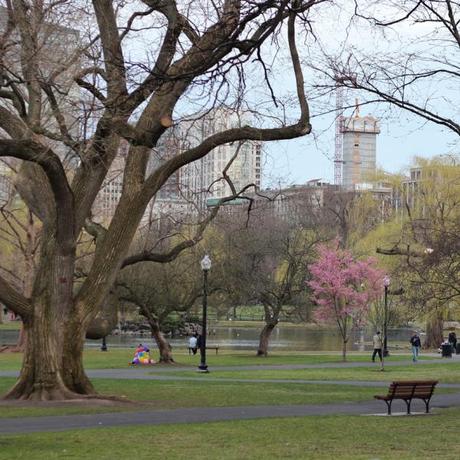 Photo: Elizabeth Jordan
The water has returned to the Public Garden lagoon and the swans will soon follow. On Saturday, April 19th, humans boat operators will help the historic Swan Boats paddle passengers on scenic tours of the lagoon and garden. Mayor Martin J. Walsh will host the first Swan Boat ride of the season. "I'm proud to be joining the Paget family and Bostonians of all ages to celebrate 138 years of the Boston Swan Boats," said Mayor Walsh. "As millions of residents and visitors already know, springtime is a great time to enjoy a ride around the Public Garden lagoon surrounded by the park's greenery and flowers coming into bloom for the season."
Students from Boston Public Schools including the Ellis Mendell Elementary School in Roxbury and the Chittick Elementary School in Mattapan will join Mayor Walsh on the first ride of the year.
On Wednesday, April 30, Romeo and Juliet will headline the Return of the Swans event. When they enter the lagoon, with much fanfare, for their inaugural paddle of the season, they are sure to appreciate the recent restoration project completed in their spring/summer home. The Boston Parks and Recreation Department restored the granite edge of the lagoon with a project that took about five weeks to complete and was done at a price tag of $264,000. According to Ryan Woods, Director of External Relations for the Parks Department, "This restoration work will help the Parks Department control a consistent water level and make the lagoon more sustainable."
The Friends is looking forward to these two exciting rites of spring that showcase how people enjoy and connect with our treasured greenspaces. We would love to hear about ways you connect with our parks – the Common, Garden, and Mall. Please leave a comment or email us at [email protected].