Have I mentioned how much I love working with business's to develop effective marketing pieces? I had the privilege of working with the folks at Downtown & Vine for this promo postcard.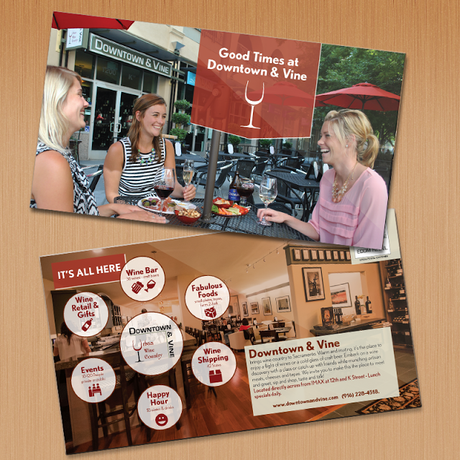 Downtown & Vine is this friendly little wine bar and shop on K Street across from the IMAX. They've haven't been open very long and they're trying to spread the word about their new menu and bar items (they're going to be doing craft beers on tap and tapas!). We wanted to create a marketing piece that reflected the fun, friendly environment at Downtown &Vine.
We grabbed a couple cuties from the Sacramento Conventions and Visitors Bureau and a coworker of mine from Salem Communications. I took the photos and did all the design. 
We sent the postcards away for printing and the print company, PSprint, noticed our design and featured it on their blog. It made me feel very loved.