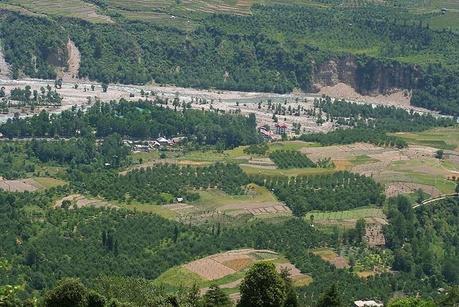 It is evidently one of the most popular water bodies inciting religious potency of Hindu. Nestled amidst the splendour of great Himalaya it is believed that its springs were touched by Rishi Bhrigu, one of the seven prominent perceptive of the Hindu religion while doing the meditation.
It is also on the card that while writing the Bhrigu Samhita, an astrological document he settled within the banks of the lake.
Here you can witness the natural majesty of fir, spruce, moru and more you will walk uphill exploring the crest of elevation you will behold the luminosity of kharsu oak trees and that's would be a moment when you can assure yourself that you are around the site of Nagger from where you can start to trek.
Located within an altitude of approximately 4300 ft the site is blessed with an ambiance and elegance of Kullu district of Himachal Pradesh. While making your way here what best you can look to do is trekking from the religious site of Vashist temple which is renowned for its natural hot water springs. 
Closing down the doors of Manali the pristine lake is named after the celebrated sage who mediated here during his walks on earth. 
Religious Importance
Since the land of India is renowned for its religious harmony and symphony and at such juncture chivalry of the site adds more spiritual serenity and what's more interesting and illustrative is the site is lived and symbolized by the sage Bhrigu and that has made this place divine culmination.
Because of his tribunal and revelation the site is traveled by tourist from all across the world beside that its quaint location and legendary significance have complimented the site with all the delicacy. 
Things to Do
Once you end up at bends of Gulaba the Lake would appear like chasm of opium which in turn would bemuse and would take your soul for short breather. Beside that the place is renowned for its trekking range so journey here would not only meet the purpose of sacred walk but adventure glides would come at regular intervals.
Best Time to Visit
Although the gate of this beautiful lake is open throughout the year but most ideal time for you to be here would be between the months of May to October.
Tourism Importance
One would definitely pose no question regarding the beauty of Himachal and how one would not consider him or herself fortunate if they get to trek the site where divinity comes in advance and natural phenomenon becomes peripheral.
Alluring site of Bhrigu Lake which as per the legends never freezes down speaks the volume at one end and at other would allow you to enjoy charismatic view of the surrounding valley which recognizes the radiance of summit like Indrasan 6220 m, Inderkilla 6000 m etc.
How to Reach
From Manali bus stand Bhrigu Lake is just one kilometer away.
Nearest airport is Bhuntar which is located at a distance of approximately 50 km away from here.
Although there is no railway stations around Manali but you can consider Joginder Nagar Railway Station, to be the closest from here and it located at a distance of 95 km from here.