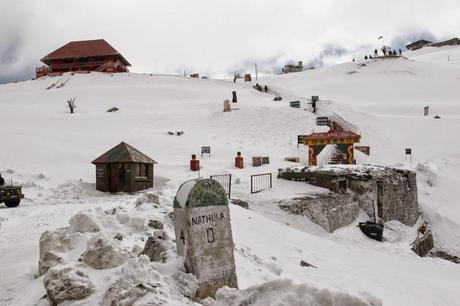 Everybody in their own world has a choice to make
In terms of defining how they actually going to take a chance when it comes to choose amongst best out of best in this context traveling could be a best option to see how you actually going to suit your desires with a perfect match.
And an answer to such complex question is very simple look inside your heart and if it says this year it's got to be a hilly area with a perfect overview then wonder less pack your bag and get yourself a ticket to a mesmerizing state of Gangtok.
Nestled In arms of wide mountainous range its beauty is one of its kind awarded by a nation for being most environmental one would hardly miss an opportunity to look over its beauty.

Mild in summer and cold in winter is all what a common people wants when they desire to visit any place so if you are looking for any of these kind then come and enjoy the sobriquet beauty.
Prolific beauty is much accompanied by its weather more like a mild endurance Gangtok becomes a must visit place being a capital of Sikkim Gangtok has its class and elegance.
Rich in flora and fauna speaks its weather condition you can pay your visit any time you would find only beauty do remember to carry warm pullovers and hi neck during winter season and in summer pack a stuff with some thin pullovers and bright t shirts that would do rainy season is not a good time for you to visit a hilly area but spring could add more delight to your journey best time to visit anytime between may to august.
Some of the places where you could travel in while paying a visit the first place would be M.G Marg settled in a heart of state you would find a plenty of neighbors during a month of season a resting place of a cosmopolitan state.
Marg was constructed to pay a tribute to our National Father it is also a venue for Food and Culture festival Food and Culture festival and a shopping center at both the side of roadways adds more pleasure.
Tsongo Lake:
A heaven for all located at an altitude 12,400 ft Tsongo Lake Is a place where you must pay your visit and witness the snow mountains and varieties of flowers and a species of birds along with its famous animal red panda a blossoming nature resides here with an utmost beauty one would stay mouth open if they get to capture its beauty.
Yumthang:
A way to Yumthang is sure to indulge your mind with an overview beauty of mountains and tortuous torrent of glaciers with a mishmash of Rhododendrons would engulf your mind.
Beauty of wild Primulas is nothing less than a wonder of Gangtok while you travel you would witness a beauty of flowers along with a gorgeous fall of water is sure to captivate your mind.
Pelling
A place where trekkers would have their joy is perfected with an outstanding work craft of beauty from Pelling you can get a close view of 3rd highest mountain of the world Mt Kanchenjunga also considered as a sentinel of Gangtok Pelling is a most desired place for all tourist.
Nathula Pass
Popularly known as silk route is a border area between India and china covered with snow it's a most beautiful place to visit one must pay their attendance cause the define beauty has so much to offer you and if you wish to see an area covered with thick snow and cold weather then wish to visit here.
How to reach here:
There are three choices for you to get here By air could ask for a little tough time if you are from overseas but simply what you can do is buy an air ticket to India and once you land in India if you wish to fly to friendly sky then from India you can fly into any domestic airlines and land into Bagdogra from here only option is left catch a cab and drive your way to Gangtok.
For Indians they can opt for Bagdogra as their destination if you coming via air and once you reach Bagdogra catch a cab to Gangtok. Via train could be a best option but just remember your hallmark destination should be New Jalpaiguri or siliguri and from there you can look for cab.
You can even make your way out here via bus which is a simplest and easiest mode of communication.