We've now been in Fort Collins for a bit over two months. Where, indeed, has the time gone? In terms of climbing, it has gone to finding and working projects, while trying to sample as many easy and moderate classics as possible.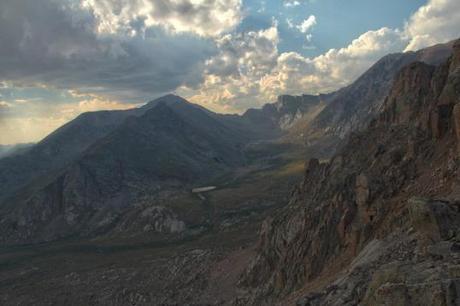 The view from The Abyss.
If you take a peek at our Facebook photos, you'll see some of the places we've visited during the summer. Mostly we go alpine bouldering due to the warm weather, though even at 10,000+ feet of elevation the temps have been quite warm, often reaching the mid 70s. Upper Chaos, Lower Chaos, Emerald Lake, Moraine Park, Lincoln Lake, Mt. Evans Area A, The Abyss…the list goes on. Yet we often do the bulk of our climbing in the warmer parts of the day, when the tips still slide around on edges and slopers stay slick.
Since we haven't had prime conditions, sending projects has been less of a priority. What we ought to do (or should've done two months ago) is invest in a couple of lanterns, so that we can stay past dark and exploit the chilly evenings. In other words, we should take a lesson from a particular blog title…but we have been fully enjoying our time meeting and climbing with new friends, exploring areas and shopping for projects.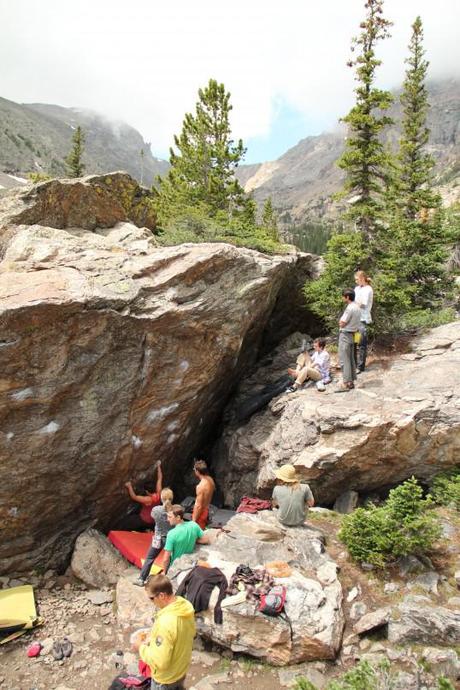 Climbing, spotting or just relaxing underneath and around the Warm-Up Boulder. A typical weekend morning in Lower Chaos.
Bouldering at one's limit requires several factors to align properly. One must be in good shape, with proper rest beforehand (the older I get, the more time off I need after training or climbing). One must be warmed up properly, but not yet tired or flash-pumped. Skin must be callused and dry, but not cracked or worn. You need some glucose in your blood, but you don't want a full belly. I personally countenance large quantities of caffeine, the legal ergogenic drug of choice for most power athletes. It also helps get the "morning glory" moving through the guts, so you can be at your lightest.
Preparing for a hard send starts much earlier than the warmup. It extends backward at least 36 hours from when you pull onto the starting holds, and includes resting, preparing your climbing day's nutrition, and taking care of skin.
While pushing our personal limits is a high priority for us on this trip, sending is not everything. The benefits of bouldering go far beyond our tick lists. The friends we've made, the scenery that surrounds us, the feeling of euphoric exhaustion at the end of the day…these factors are what drive us as much as the satisfaction of succeeding on a particular sequence of moves.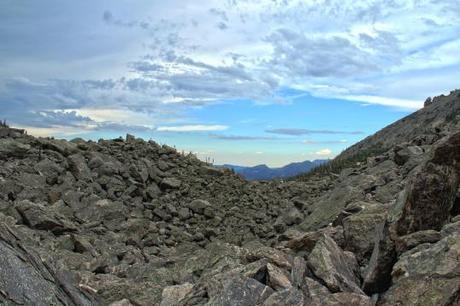 The scenery and the climbing make the hike up to Upper Chaos worthwhile.
That said, both Vikki and I have some projects in mind. Here's a short list of problems we'd like to do, with a short blurb about each. You can see our 27Crags ticklists here (Vikki) and here (Spenser). Clicking on a link will bring you to a video of that climb.
Spenser: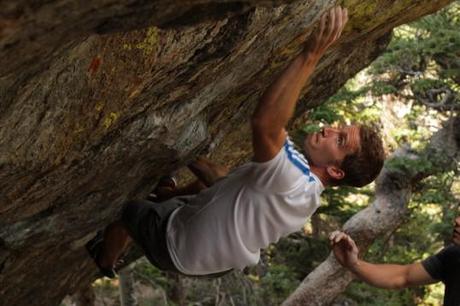 Tim working one of the many tough moves on Whispers of Wisdom.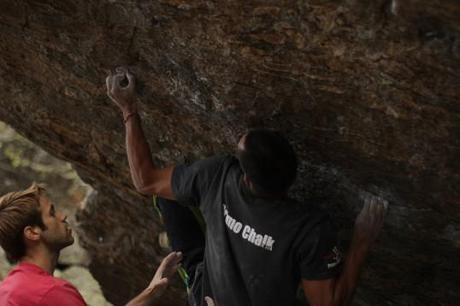 Spenser crimping hard on Left El Jorge with Fernando providing a close spot.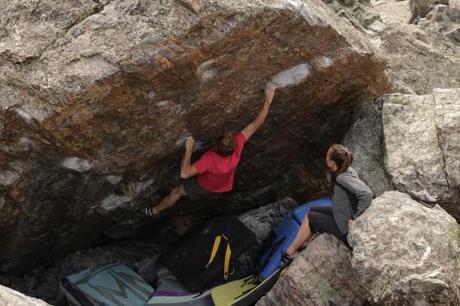 Fernando making the big move on Right El Jorge (V8) look easy.
Vikki: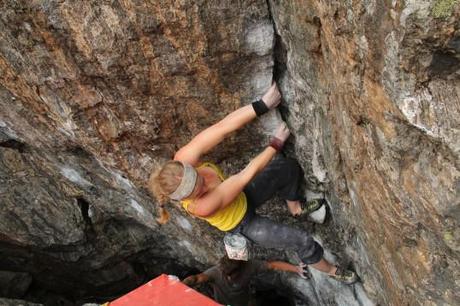 Rachel working the moves on Autobot (which she just sent this past weekend, go girl!). Jered providing a good, albeit rarely needed, spot down in the pit.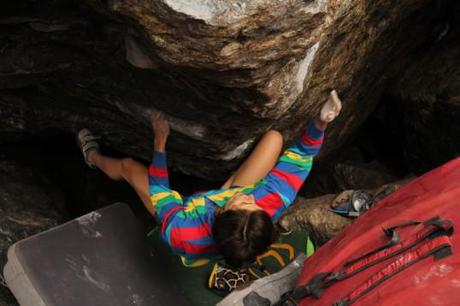 Vikki cranking on the first move of Tommy's Arete.