Have you ever met someone and known right away there was a reason?
A few months ago I was talking to someone about my blog and my passion for making vegan food seem more accessible to a wider audience.  She recommended that I meet Jodi McGinty, and organic whole and living food chef and educator.
While Jodi is not a vegan, she is so knowledgable about the field, and has worked for many clients who both adhere to and/or are looking to integrate this healthy lifestyle.  She uses organically grown whole and living foods, and as she says herself, teaches both cooking and uncooking classes educating about the value of raw foods as well.  She knows how to provide high-quality nutrition to naturally support proper digestion and a well-functioning immune system, and what foods and herbs create and support excellent health.  
After hours over coffee, and talking about everything under the sun from vegetables to fate,  Jodi sent me her Food of Love e-book with which, I appropriately, fell in love.  I have copied a few of Jodi's incredible salads for you below, but to learn more about what she has to offer, or to contact her, go to
http://www.liphebalance.com/jodi_mcginty.php.
Jodi's Delicious & Healthy Raw Beet Salad
*Great for your liver and for those who generally do not like beets.  Olives are high in minerals, calcium full of antioxidants and are beautifying to the skin!
Ingredients:
1½ lbs golden or red beets, peeled
½ red onion, finely chopped
¼ cup raisins or currents
2 tbsp fresh chives, chopped
10 Greek Olives
2 oz organic goat cheese (optional)
1 tbsp wildflower honey
2 tbsp extra virgin olive oil
3 tbsp lemon, freshly squeezed
Pink Himalayan Salt and Pink Peppercorn to taste
Instructions:
Coarsely grate beets by hand or in the processor and place in a bowl.  (Beets can be lightly steamed if preferred, and in particular in colder climate.)  Add olive oil, lemon, raisins, honey and combine.  Refrigerate or let stand for 30 minutes.  Remove the green olive pits and lightly chop.  Add goat cheese and chives.  Gently combine all.
Jodi's "Lighten-Up" Healthy Salad
*A delicious salad containing loads of fiber, vitamins and minerals beneficial for weight reduction and detoxification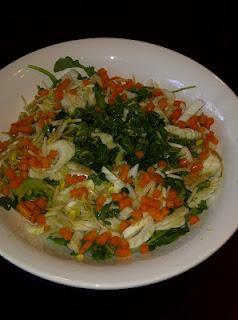 Ingredients:
1 box fresh baby arugula greens
4 stalks celery, finely chopped
1 bulb fennel, finely chopped
2 carrots, thinly sliced
½ cup fresh flat leaf parsley leaves, washed
½ cup fresh sprouts
4 tbsp freshly squeezed lime juice
½ tsp lemon zest
6 tbsp organic extra virgin olive oil
½ tsp celery salt (or pink, sea or herb salt)
Instructions:
Whisk together lime juice, lemon zest, extra virgin organic olive oil and salt.
Place arugula, celery, fennel, carrots, parsley and sprouts into a large salad bowl. Drizzle with whisked dressing.
If you want this to serve as a complete vegan meal, add ½ cup of toasted walnuts, almonds or pumpkin seeds.  
Jodi's Mineral-Rich 
Sea Vegetable Salad
*Sea vegetables contain calcium, iron and iodine with help with detoxification and protect against toxins

Ingredients:
1 cup finely shredded dried organic Hijiki or Arame Seaweed
2 green scallions, chopped
1 red pepper, diced
1 yellow pepper, diced
1 tbsp sesame seeds
4 tbsp toasted sesame oil
½ cup freshly squeezed lemon juice
Instructions:
Soak seaweed in pure water for 30 minutes.  Drain and place in medium salad bowl.  Whisk the sesame oil and lemon juice together in a small bowl or cup.  Add scallions, peppers and sesame seeds to the seaweed and toss with the whisked dressing.