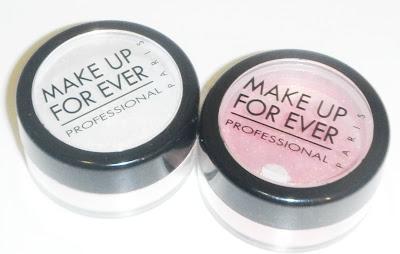 I actually got these about a month or so ago and just haven't gotten around to posting about them but now that I'm back into the swing of things with blogging I couldn't wait any longer!  These powders are amazing!  They can be used on the eyes, cheeks, and anywhere you want to highlight on the face.  The quality of these are incredible, as the quality of all Make Up For Ever products always are.  They feel so soft when you apply them and the lasting power on them is fantastic.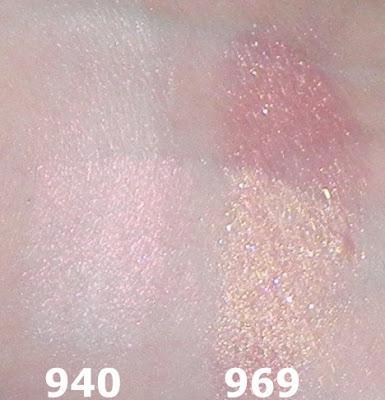 This picture is more true to the colors of the powders.  The next swatch picture shows more of the sheen and glitter to each of the powders.
I have two of the Star Powders: 
940 which looks like a white powder in the pan but when applied it takes on this gorgeous peachy-pink color.  I've been using this as my every day highlight, it looks completely natural because it doesn't have any glitter in it just a beautiful sheen that you see when the light hits it.  It will look like I have nothing on but then once the light catches it you see the most gorgeous subtle color!  It's the perfect highlighter!  Haha, can you tell I'm in love?!
My other Star Powder is 969 but I think it's classified as a Diamond Powder because this one does have glitter in it.  It's not overly done gaudy glitter by any means but there is a bit of fall out so I recommend placing a tissue underneath to catch it when applying.  This color is a more pigmented peachy-pink color that I love to wear either all over my lids for a glitter-y glowing look or right in the center of my lid for a beautiful highlight.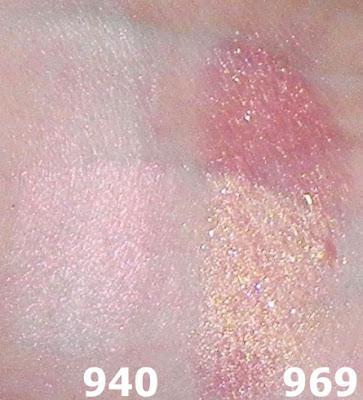 The colors are a bit darker here but you can see the sheen of 940 and the glitter particles in 969 a little bit better.
These powders are so universal and the colors are simply gorgeous!  Have any of you tried the MUFE Star Powders?!  How did you like them??  Completley in love like me or just so-so?