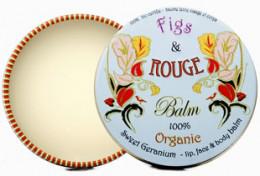 Well, after 6 months of beauty boxes I've finally fallen totally, utterly and completly in love with a product! How do I know? Well it's the very first one I'm going to purchase again regardless of the price (you know how love is....!)  So luckily for me it's 
£3.49
Yay!
My new love is Figs & Rouge Sweet Geranium 100% Organic Balm.  It's a smooth balm that melts into lips and skin and smells absolutely divine!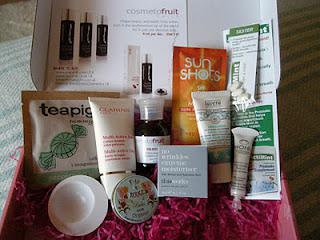 Now this wasn't a schoogirl celebrity crush,oh no, in fact I'd never even heard of the brand, let alone the product, until it turned up snuggled in my
Latest in Beauty box,
it wasn't even a 'go to' product as I'd tried an organic balm before from another Beauty Box and wasn't impressed as I found that balm had a somewhat 'gritty' texture, but not my Figs & Rouge, it's smooth and just melts into my skin.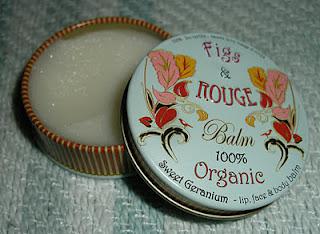 You can't deny it's not a looker in its cute little retro style tin with embossed logo and that first sniff was very tempting.....but from experience I've learned that looks can be decieving, so it was time for a little internet snooping research....
Apparently this is loved by Emma Watson and Lizzy Jagger, amongst others and has also won a Natural Health Magazine beauty award.
100% Certified Organic Ingredients:
Helianthus Annuus Seed Oil, (Organic Sunflower Oil)
Butyrospermum Parkii Fruit Butter, (Organic Shea Butter)
Cera Alba, (Organic Beeswax)
Pelagonium Graveolens Flower Oil, (Organic Geranium Oil)
Rosa Canina Fruit Oil, (Organic Rose Geranium Oil)
Cananga Odorata Flower Oil, (Organic Ylang Ylang Oil)
*Linalool, *Citronellol, *Geraniol, *Benzyl Benzoate, *Bemzyl Salcylate, *Farnesol, *Benzyl Alchohol, *Isoeugenol, *Eugenol, *Citral, *Limonene (Organically Produced)
* (Naturally occurring component of essential oils)
Geranium Oil, Rose Geranium Oil and Ylang Yang Oil all assist with the balancing of sebum production, so good for oily, dry and combination skin and all also assists in balancing emotions. Shea Butter is  a favorite of mine and just wonderful for Dry Skin.
Figs & Rouge describes the Sweet Geranium Balm as Conditioning & Hydrating. I use this on my lips, cuticles, dry skin patches and even lightly as an all over night cream (the texture reminds me of This Works No Wrinkles Extreme Moisturiser which also contains a high proportion of Shea Butter), though I wouldn't recommed using as an all over treatment for those with oily skin types. It's also something I'd definately use on a long haul flight to moisturise and calm via it's aromatheraputic properties ... and it's  the perfect size to put into that teeny tiny plastic bag I fill usually fill with products!
I've almost used the entire tin in under 2 weeks and have already ordered a replacement! (I'll be using the tin to store my stud earrings).
The balm is available in other 'flavours' including Rambling Rose (moisturising and protecting) , Peppermint and Tea Tree (soothing with antibacterial properties), Aloe and Mint (soothing and protecting) - you can check out all their products and suggested uses on their website.
Stockists include:
www.feelunique.com
www.lovelula.co.uk
www.lookfantastic.co.uk
www.boots.com
What's your favorite multi-use product?
Laters Peeps!
Love Lainey xxx