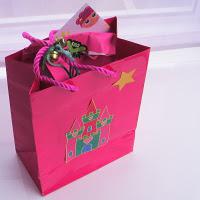 It's no secret that many people share their birthday with Christmas festivities.  It must be a blessing and a frustration; you get to be doubly excited as the end of year approaches,but at the same time, it must be hard not to get lost in the drama of everyone else's celebrations.
We went to a Princess Party yesterday for a lovely 5 year old friend.  It was a fun-park variety, fully catered, plenty of playtime, and everyone dressed up - it was fabulous fun, and it reminded me to remind you that parties are often about 'going-to' as well as 'hosting.'
Today I though I would post the flip-side of printpapers.  As well as using the themed templates and printables for any party you host, they are also invaluable for when you go to themed-parties.  Mimi and I were able to quickly print out a card and some decorations from the Princess Party Ebook and printpaper package, and then decorate a gift bag.
To stay in theme we went pink, and added a castle, gold star, frog sticker and gold bells (to look like gold-balls and because they made the bag jingle nicely).  
I'm a big believer that we all use all our senses all the time, and children use them even more keenly.  That's why I think you should attempt to appeal to all 5 senses when wrapping a present.  Here's a few ideas how;
Sight - this is the obvious one, and we're all pretty good at making a present look pretty, but don't forget;
Sound - kids love to shake a present to hear what's inside; if the present isn't a rattler, add something jingly to the wrapping, such as a clunky, beaded necklace.  
Touch - Use a variety of materials, soft tissue, glossy paper, rough twine, all mixed together, for a super-sensation.
Taste - at Christmas time I love adding a small candy-cane, but you can pop chocolates or other goodies onto a wrapped present all year round (just be ever-mindful of allergies; and if in doubt, leave it out).
Smell - the peppermint smell is a given when you go with candy canes, but you can be also give gifts a spritz of floral perfume or boyish air freshener to make the present more appealing (I always spray on an extra strip of card or tissue paper and slip it into the gift rather than spray the present and risk staining something.)
Now, back to printpapers for a moment; there are many designs of digital printpapers on the market, so shop around, you're sure to find one that suits your style and remember the beauty of them is that if you think outside the gift box, you'll get plenty of extra use!
(If you're not sure what printpapers are, I blogged a post recently on "what are printpapers?" and there's also some more information in a Free Downloadable Guide under the Help > How To section of my other website.) 
Don't forget to vote what makes the perfect tree on the right hand side.