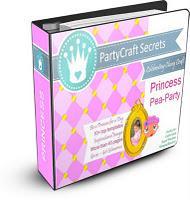 It's no secret that there's a book and TV series called "The Little Princess" created by Tony Ross.  My girls LOVE the cheeky little princess with her strange smudgy eyes and plain white dress (or nightgown?).  Truth be told I'm not so keen.  She's got too much attitude.  I'm all for young ladies asserting their personality, but foot stamping temper tantrums are bad enough in real life without having to sit through another episode on your telly or at snuggly book time before bed.
Good news however is that not all princesses are like that.  Take Kate Middleton, now Mrs Catherine, Duchess of Cambridge; you don't see her throwing a hissy fit about having to eat a salad... at least not that we get to see!
Anyway - all little girls love to dress up as princesses, and a little bit of spoil-the-royal behavior is ok from time to time.
If you have a little girl's birthday party coming up and can't decide what to do to celebrate;
go the princess theme
.  Buy lots of pink and white, add sparkly bling to everything with stick on gems, have all the visitors make crowns and tiaras for a craft project, and play games like pin the kiss on the frog, treasure hunt for the little princesses' lost golden ball or a silver slipper, or hide a pea in a bowl of popcorn and ask the girls to find it.
If you want more ideas; and what parent isn't looking for a little helping hand; jump onto the Partycraft Secrets website and see images of other Princess craft ideas or download the ebook for printable art and craft templates.