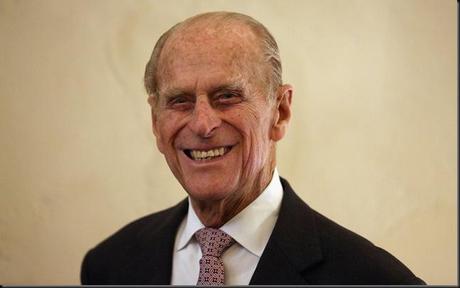 Prince Philip, the Duke of Edinburgh has had a bit of a tough year so far with regard to health problems although it is not really surprising that a 91 year old man, soon to be 92 is starting to feel the pace of a hectic life. Yesterday  he entered hospital in preparation for some exploratory surgery on his abdomen and this shows up very clearly on his natal chart.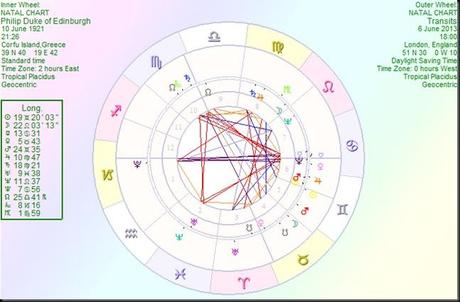 Looking at his transits chart, this is very much a tale of Mercury, Jupiter and Pluto with the grand water trine I mentioned yesterday playing it's part too. We have transiting Mercury ruling his 6th house of health conjunct the Duke's descendant and natal Pluto which also sits in the 6th> Pluto of course is the planet of destruction and transformation and of things and secrets hidden under the surface. Transiting Pluto is opposing natal Mercury too, although this connection will be fully next year as Mercury sits at 13 degrees Cancer and Pluto has yet to get to this degree yet in Capricorn.
This descendant at 8 degrees Cancer and Pluto at 7 Cancer are in the firing line of the grand water trine now forming in the skies. Neptune the planet of hospitals, of suffering and degrading is making a trine to this spot as is Saturn the planet of harshness, fear and tough times. Now remember what I said yesterday, trines make things happen and they have to be good things either. My hunch is that this grand trine is going to be working on Philip over the next couple of months. Neptune does dissolve whatever it touches and a Saturn trine can prolong a situation making it last much longer than is normal.
Transiting Jupiter rules the 12th house of hospitals and institutions on The Duke's chart through Sagittarius on the cusp of the 12th house and right now the Duke's 6th house Mars which makes him so much energy in the daily grind of social events is now under a conjunction from transiting Mars, the planet of action. Here we have direct pro-active surgery to get to the root of a problem.
Now the wild card in all this is Uranus which is now making a square to Philip's Mercury (ruling the 6th) a trine to his natal Neptune and an tricky little inconjunct aspect to his natal Jupiter. This inconjunct suggests something potentially unexpected being found in the hospital surgery, and as a result and adjustment having to be made, although the action today may already be the result of this happening, it is hard to tell exactly. What I can say is that this grand water trine, Uranus and Pluto are not moving too far in the next couple of months and with Saturn placed in the 10th house close to the Duke's Midheaven, the public fears over his health will continue for some while longer…