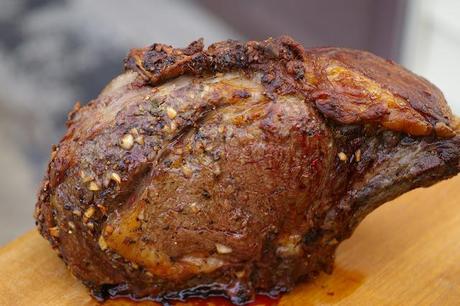 This is one awesome piece of beef.
Let me tell you it was also on the expensive side.
While I was at Sam's Club I looked at three of these puppies. The first one I picked up was $65.00. The next one was almost $100.00.This one was $45.00.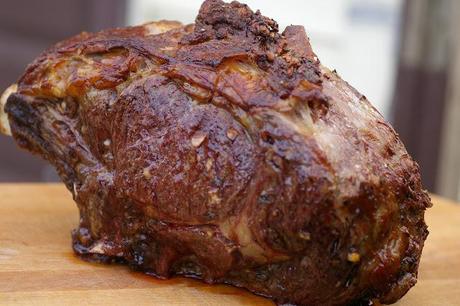 This one supposedly feeds 4. What four? Certainly they didn't mean adultsCertainly not very hungry adult males.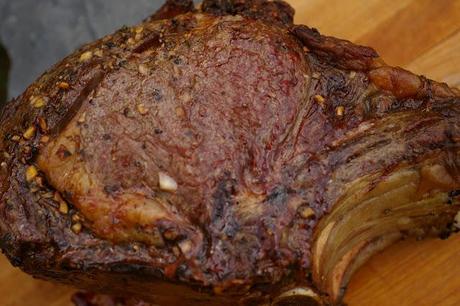 Maybe they were referring to the salad eating females.I have only heard about these women.I don't think I am friends of any of them.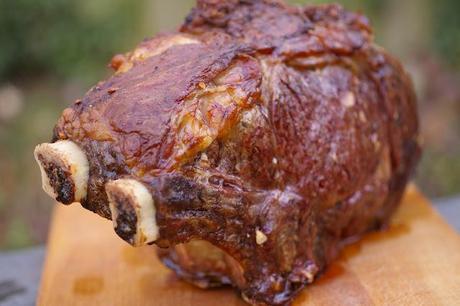 Most of my friends would probably help me eat half of this prime rib.They would be licking their chops for more.You know what they say, Birds of a feather flock together.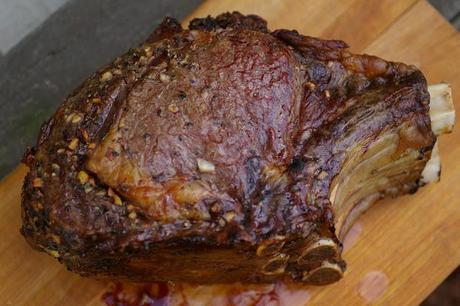 Standing Rib Roast
6 large garlic cloves minced
3 tablespoons thyme leaves
2 1/2 tablespoons olive oil
2 tablespoons kosher salt
1 tablespoon coarsely ground black pepper
 6 pound beef rib roast
A day or two before you are going to roast, in a medium bowl combine garlic, thyme, oil, salt, pepper. Rub roast with garlic paste all over. Place in a zip lock bag and allow to marinade for a day or two. Uncover and allow to stand at room temperature for 2 hours before roasting.
Preheat oven to 450 degrees
Position roast on rack bone side down. Roast beef for 20 minutes. Reduce oven temperature to 350 degrees. Roast until thermometer inserted into beef reaches 150 -170 degrees, about 2 hours.
Roasting tipsEach rib serves two people. This beautiful  roast absorbs lots and lots of flavors. Be generous with seasonings and rubs. Insert a instant read thermometer into the roasts center, make sure you avoid the bones. This properly checks doneness. Cook the roast no more than 150 degrees (medium) or the meat will be overdone.Remember carry over temperature. This means that the meat is still cooking after you take it out of the oven. Generally it cooks an extra 10 degrees after the roast is pulled from the oven.The finished roast should stand for at least 30 minutes so that the juices stay in the roast. Afterwards cut away the rib bones first. Serve 1/4 inch to  1/2 inch thick slices with pan sauce or gravy.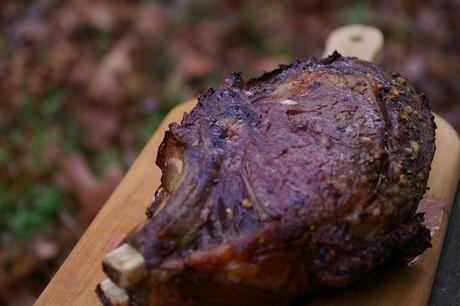 Peace be with you,Veronica