Ohh La La, by 'eck cock I've finally got some decent nail wraps. They're in short supply up North it seems.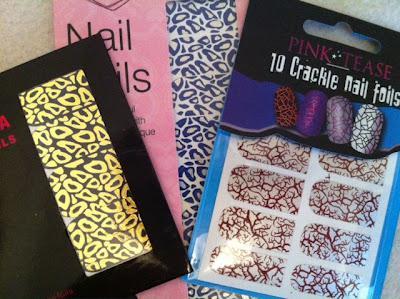 A selection of nail wraps . Thanks Kat! 
A few weeks ago I received a lovely suprise package in the post from my cousin Kat who had sent me a selection of nail wraps. After reading my post on
Nail Rock Nail Wraps
she clearly knew that I needed the practice!! She sent me three different types with the intention I could use them to practice, as nail wraps that aren't by Nail Rock seem to  be in short supply in Lancashire! The first ones that I tried were the Oh La La Nail Foils from Primark and I actually really liked them.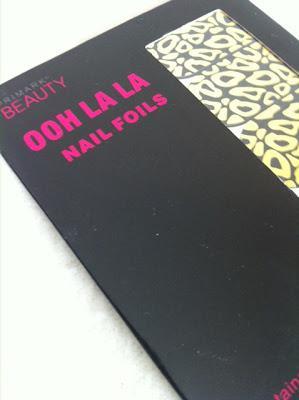 Primark Ooh La La Nail Foils
One of the main positives of the Primark Ooh La La Nail Foils is that they are very easy to apply. All you have to do is warm them up by rubbing them with your fingers, peel them off and apply them to your nails! It is easy to get a smooth finish, just smooth them over with your finger and you get a super neat finish. The foils are quite delicate and it is easy to tear them, so take a bit of time to be gentle.
Unfortunately I didn't get a very neat finish for the pictures, however this is because all three of my black nail polishes were past their best and a nightmare to apply. I went with MUA's Nail Polish in shade 1 but it was pretty gloopy and a nightmare to use. I  definitely need to update my black polish, I've betrayed my inner goth by neglecting my black polish collection, I blame all the beauty blogs I read for making me love pastel nails!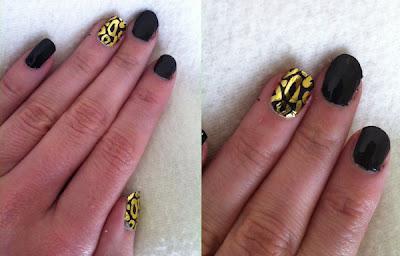 Primark Ooh La La Nail Foils and MUA Nail Polish in shade 1.
One of the downsides of the Primark Ooh La La Nail foils is that they aren't very hard wearing and had began to chip at the top of the nail the same day I applied them. I like my nail products to be a little longer lasting but if you change your polish every day these are perfect! The Ooh La La Nail Foils are Tres nice, 
Danke Schone Kat! I realize that's German and Oh La La is French but I didn't do French at school!