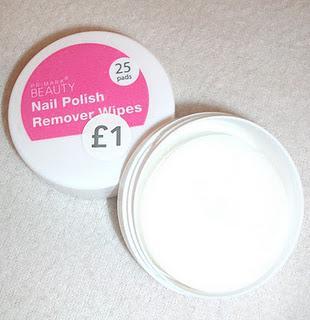 Primark Beauty Nail Polish Remover
One of my worst habits when it comes to my beauty regime is having chipped nails. Now I know to some people this is an unforgivable faux pas, especially for a beauty blogger. My defence is that I have a hands on job so I would have to paint them everyday and I definitely don't have the time for that. Also I find most removers to be super harsh and damaging to my nails.
The other day I was in the queue at Primark picking up a few bargains. I glanced at my nails and low and behold they were chipped and terrible. In front of me were a selection of till tempters and amongst them were Primark Beauty Nail Polish Remover Wipes for £1.00. I popped some in my basket, not expecting them to be amazing but hoping they would do the trick.
That evening I used them to remove my polish, not just any polish but glitter polish and guess what, they worked! Not only do they remove super stubborn polish, they also smell amazing. They don't have the harsh alcohol smell that some removers have, they smell sweet and fruity. They also left my nails feeling nourished and strong instead of stripped and damaged. They cost £1.00 for two pots each containing 25 wipes, I challenge anyone to find any as effect and as cheap as these!