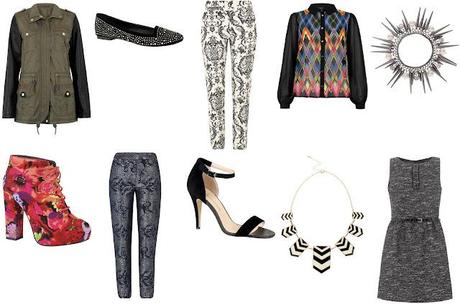 So have any of you seen Primarks A/W 2012/13 collection that was released today on Look's website? If you haven't yet go and check it out, you wouldn't even believe it was Primark clothing! So i picked a few pieces which will definitely be on my wish list for the winter time. I do love a fair few items from Primark as i know they are reasonably prices and usually just dupes of higher end brand clothing! 
The first thing that caught my eye was the parker coat with contrast faux leather sleeves! I am so excited to purchase this when it arrives in store. I have been eyeing up a similar one in Zara for some time but at £100 i couldn't bring myself to buy it! This beauty however is only £25 do i hear you say BARGAIN! 
The next item i am loving is the Floral Print boots! How amazing are they, as i said in my previous post i am really after some statement pieces for my wardrobe, items of clothing that really make that outfit something out there and different to what everyone else is wearing! These baby's are £20. 
I am so excited to see these items in store.. I best get saving up!! Let me know what your favorite items are out of the new collectionI'd love to read what they are!
Thanks for readingLeigh <3.