Price reductions seem to have become the name of the real estate game this past year, and Minneapolis continues to lead the nation in being the quickest to slash listing prices. In fact, the number of price reductions has been closely paralleling the number of new listings.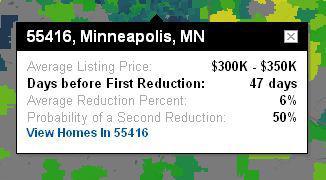 Wondering what price reductions to expect in your neighboorhood? Trulia has developed a remarkable interactive map that allows you to zoom in by zip code to see market averages for non-foreclosure listings...
Average listing price
Days before first price reduction
Average price reduction percent
Probability of a second reduction
Whether you are a buyer or a seller, this is very useful information. The likelihood of a second price reduction can give you an idea of strong or weak the market is in your zip code... the more yellow it is, the slower the market.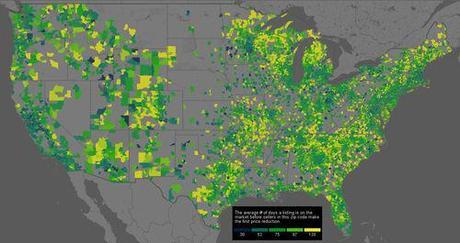 Perhaps part of the reason we lead in our quick price reductions stems from area expectations. Our market has been historically strong. In fact, LendingTree recently reported that Minnesota has the second strongest housing market by state. We are accustomed to quicker market activity in the Twin Cities and sellers tend to react with price reductions if they aren't getting the response they expect. Buyers tend to wait for price reductions. Some of the first questions I hear from prospective buyers of a property are how many price reductions? when was the last one? how much was it? Buyers seem to be trained to expect price reductions before making an offer.
Looking at non-foreclosure listing data for one year at the end of the first quarter, Minneapolis averaged 45 days on the market before the first price reduction compared to a national average of 79 days on the market. 
Minneapolis, MN - 45 days
Oakland, CA - 48 days
Phoenix, AZ - 48 days
Sacramento, CA - 49 days
San Diego, CA 50 days
Omaha, NE - 52 days
San Jose, CA - 53 days
Seattle, WA - 54 days
Las Vegas, NV - 54 days
Mesa, AZ - 55 days
Sharlene Hensrud, RE/MAX Results - Email - Minneapolis - St. Paul Real Estate Market Information
RELATED POSTS
Minnesota has second healthiest housing market by state
March Market Update... pending sales up
Interactive Market Data... for condos, houses, townhomes, foreclosures, and more...
National Map of 2011 Shadow Inventory