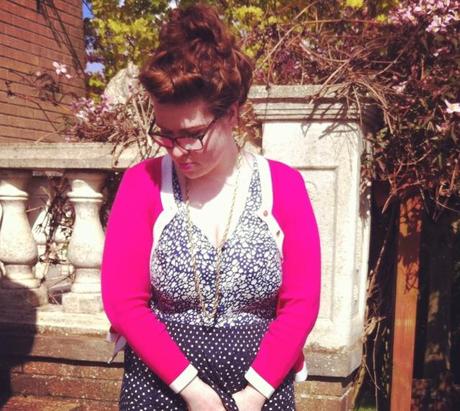 Trés unflattering pose - attempting to hold down v short skirt in gale force winds! Cardigan - Lucia (vintage), Playsuit - Primark, Chain - Topshop, Skirt - Zara.  
Had planned to nip out and take some new outfit pics this evening but didn't get round to it thanks to a) the horrendous weather plus b) the fact that I was faced with a flat tire to contend with and have been in a
foul mood
ever since - far too foul to even consider the risk of getting caught in another freak hailstorm!
Anyway, these are a few pics from my Mum's birthday celebrations a couple of weeks back. She's no party animal so we just decided to spoil her by taking her out for a meal in her favorite restaurant then surprised her with tickets to 
Les Misérables whilst we were there. Was a lovely evening :)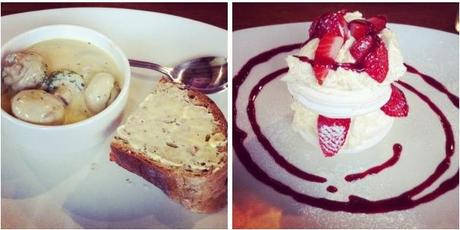 Left: Yummy garlic mushrooms and crusty home-made bread. Right: TDF strawberry pavlova dessert. Mmmmm...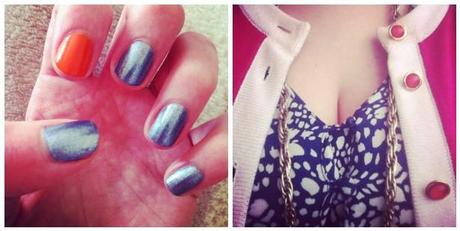 Left: Topshop nails in "Mercury Miasma" (blue) and "Causing a stir" (orange). Right: Detailing
I think I have more Topshop nail polishes than any other brand and it's mainly because I think they're
such
good value for money. Not only are they great quality, I get to use my student discount with every purchase (Y) and I can't deny either, that I'm a bit of a sucker for the cute packaging. 
Really like the look of some of their new glittery/metallic shades at the moment; got my eye on "Razzmatazz" - beaut'.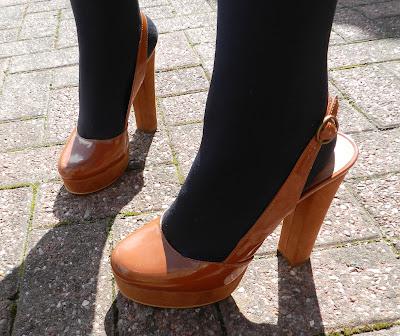 Shoes - ASOS
Very rarely wear heels, especially ones this high as they push me over the 6ft barrier - making me feel like an absolute
giant. 
I'm also incredibly accident prone so this means that they pose a considerable threat! Chose to brave them on this occasion though as I knew I wouldn't be tottering around too much and actually coped quite well, so who knows - I may become a regular!  
Don't think I've anything else to report. I'm meeting up with an old friend on Friday for drinks. Haven't seen her in years (literally) and so I'm super excited to catch up :) No doubt there will be plenty of outfits to snap and news to report afterwards, so stay tuned.