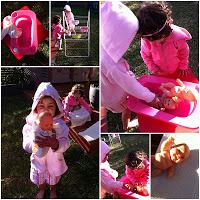 It's no secret that outdoor play is so important for children.  That's why, whenever the weather is right I throw open the doors and get my two young'ins out there.
If your yard is small or your children consider it 'boring' it's your job to come up with new ways to use their 'old' space.
Many, many months ago the girls and I came up with a super simple activity that lasted waaaay longer than I expected: washing baby dolls.
All I did was set up a couple of low tables, and popped a pre-loved plastic baby bath (a real one or buckets would work too) on one table, and a set of small hand towels and face washers on the other table, and the drying rack beside that.  The girls enjoyed washing several of their dolls, shampooed their hair, and then dried them off, and washed all the towels for me... which was 'sweet' of them but entirely unforeseen .. and without the usual spin cycle of the washing machine, the towels took a LONG time to dry out!
So go on then - whether it's a baby-shower activity for young visitors, a spring cleaning initiative  or a fun way to spend a mild afternoon - get the kids to wash their toys!
have fun!
Linda.