The Scoop
  One-Stop-Shop for Indian Designers' pieces i.e. Pret Amoda. And, it has got a make over. New look of Pret Amoda is elegant, chic and easy to navigate. I don't know if you remember my last post on Pret Amoda but you ought to read this one which is written on a different note but similar feelings.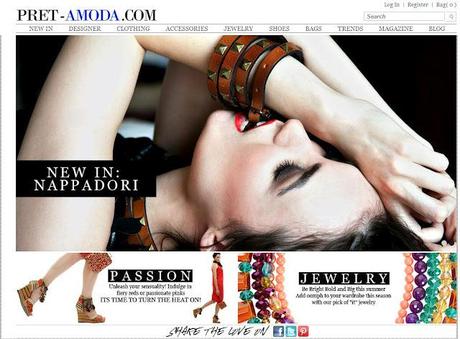 pret-amoda.com
Features and Segments:
Beaming collection of designer clothes, conceptually intriguing accessories,  jewellery with traditional touch and tribal appearance and everything else is made to scratch the head and think "I would tear away the pages if this website was a magazine".
Brands and Names Pret AModa has to brag about:
Regardless of what I say, the one thing that is the most impressive on the website is the list of Indian designers. They have got the most buzzed about names like nappadori, Mailini Ramani, Prashant Verma on the other hand a few names which I had not heard of yet are Lost City and Vitatsa. You must see the collection of Malini Ramani and Vitatsa which is breath taking for me.
Luxurious Collection screaming Pick-Me-Up:
The collection does seem to be a less-options-to-browse, but each segment is too wide in itself that it still looks too much. Whether your taste runs classic or eclectic, beautifully crafted and created pieces are meant to mark an impression, instantly.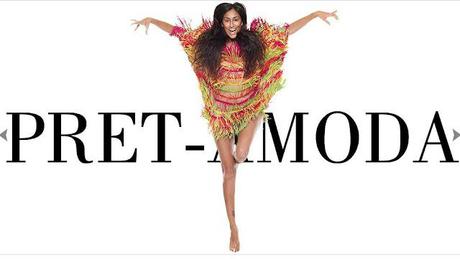 They also have collection of Shoes and Bags along with Trend, Magazine and
Blog
to browse through, which may help you in exploring and doing some shopping by carefully picking the trend and the classics. These days, almost all websites have got their official blogs, online magazines which are always helpful in picking the best. Glad that Pret Amoda thought of having these options there!!
In A Nut Shell
Pret Amoda has got everything that can be called luxurious, lavish and one-stop for buying pieces created by popular and not-so-popular Indian Designers and names. This is a bitter truth that when a name has " Designer" word attached to it; is not going to be a budget-find, or light to the pocket, which is true in case of pieces found at Pret Amoda too. But you would certainly score where the name does say-it-all and appearance proves every bit of your taste and choice. 
Easy navigation, registration and check out through Credit/Debit Card makes shopping easier on Pret Amoda. Prices might turn a sore to eyes but from bold to demure pieces are definitely special, to choose from biggest and coolest names in designer arena.
My suggestion would be :
Buying something from Pret Amoda is an
INVESTMENT
which is going to be with you life long.
So, be careful, be tasteful!!
*** *** *** ***
- Have you bought from
Pret Amoda
?- What do you like the most and the least about
Pret Amoda
?
Disclaimer:
To know more, please read my
Disclosure Policy
.

Thank you for reading!!