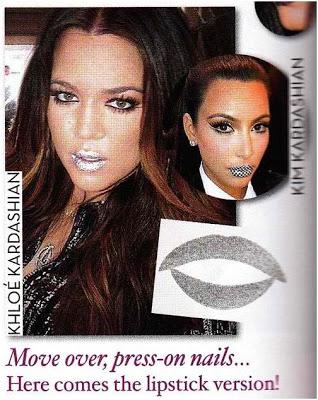 Saw this in the March 2012 issue of Shop Til You Drop Magazine (ShopTilYouDrop.com.au) and I just had to share it
The Trend
Well, the "trend" was a year ago but heck, I'll share it anyway. I did a little research and apparently, one of the first celebrities to sport it was Kesha, who wore cheetah spots on her puckers. The trend slowly caught on until other stars like Lady Gaga, Jessie J, and the Kardashians were spotted with colorful lips. It has also been featured in Vogue, Cosmopolitan, and Allure, among others.
Application
Its application is like your usual temporary tattoo; cut the transfer paper to the desired shape, press the print-side on lips, and dampen with water until print is transferred. Lasting power depends on lip-chewing and oily food intake but is said to stretch for hours.
Needless to say, not everyone is crazy about this trend. There are some who think putting zebra stripes on your lips is just plain crazy while others think that it's another unique way of expression through fashion. Either way, you have to agree that with press-on lips, you'll have a hard time being ignored.
Want your own? Check out 
ViolentLips.com
, the source of the Kardashians' press-ons above and probably the most well-known provider of a wide range of temporary lip tattoo designs. Their products are also available in 
Sephora.com