This is not a sponsored post.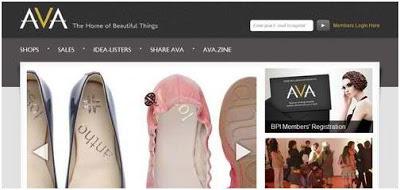 I saw this featured in the July 2012 issue of 
Entrepreneur Philippines
 magazine and thought I should share it. I mean, what practical shopper doesn't like sales?
Must-have products at 50% off are just too amazing to ignore, but there's always the hassle of going to the mall, fighting tooth and nails against the multitude of other sale-crazed shoppers, and joining a check-out line worthy of being called Tom Riddle's Basilisk.
But Ava.ph gets rid of all these problems with their online flash sales. What's a flash sale, you ask? We'll get to that. But first…
The site
Ava.ph is an online selling site of merchandise ranging from clothes to furniture provided by invitation-only brands from the Philippines and otherwise (e.g. JuicyCouture, Suelas, Otterbox, Kwaderno, etc.). 
The site's 
curators
, experienced professionals in fashion, beauty, finance, media, and many more, make sure to hand-pick the site's items for their fashion forward but practical buyers who choose value over high prices while maintaining professionalism and presentability.
The site once catered solely to Philippine buyers but they might have expanded their services worldwide. For more information on its payment methods, return guidelines, and shipping details, check out the 
FAQs section of their site
Flash sales
One of the main things that interested me in Ava.ph is its flash sales. According to the site, a flash sale is a "sale with a limited time frame" and very limited stocks, usually running for one to four weeks with high-end products being sold at as much as 80% off. 80%!! If that's not a deal, I don't know what is.
So what are you waiting for? Register now for a chance to snag that sweet item that could just make your day.
There you go! Hope that helped.