The final presidential debate took place last night in Florida, with President Obama and Mitt Romney meeting for the final time before election day. With a focus on foreign policy, the debate went almost exactly as expected. President Obama walked away with a strong victory, but Mitt Romney did avoid the sort of hawkish tilt that has stained many Republican candidates in the past.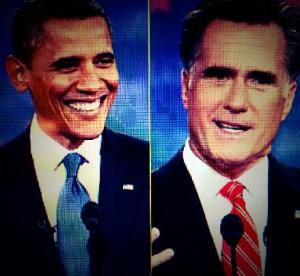 It's almost time to choose
It is much different to talk about foreign policy than to actually do anything on an international level. President Obama has taken a much softer and diplomatic approach than W Bush and many presidents before him. Obama has come under much criticism from the conservative wing for "apologizing for America." This is nothing but selfish propaganda reflecting the fear that many conservatives feel when thinking of the world at large. Romney tried to make him look weak, and promised to restore the greatness of leadership.
It would be nothing short of impossible for Romney to lead the world as Obama has. Obama, from the sheer fact of being multiracial, compounded by his compassionate approach to every country in the world, has better united the world just by being a symbol. If there were a worldwide election, Obama would win with at least 90% of the vote. He is widely respected for his cool approach, which is extremely well marked thanks to the  glaring contrast between the "style" of W Bush.
When the conversation last night got to what each man would do regarding difficult situations in Iran and Syria, the American public got equal answers. Romney was unable to provide enough differentiation against what Obama was already doing, and his responses were nearly identical. This is not because Romney feels the same way as Obama, but because it almost never matters what the President himself thinks regarding foreign policy. Unless it's something very big, It is almost always a decision made in the best interest of America taking all information and possibilities into account, from advisory teams comprised of foreign policy experts. Whatever Obama's aides are saying to him now about the situations in Syria and Iran would be identical to what a President Romney's aides would tell him.
Where the candidates did diverge was the size of America's military. Romney has criticized Obama for wanting to "weaken" the military, and called him out for a reduced number of warships and fighter planes. Obama responded that the military has changed: we don't have the same number of bayonets or horses, either. It is true that the role of the military is changing, but it is changing because it must.
Responding to the security challenges present in the world today, Obama has done a good job to reorient the focus of the defense department onto real threats. Beefing up cyber warfare protection, using drones to dismantle terrorist networks, and placing more emphasis on the Pacific region, are all examples of the reorientation. What Republicans refuse to understand is that the power of the United States military is still immense, and unrivaled in technological terms. It must stay this way in order to retain military dominance. Obama is the man to take us there over the next four years.