On a brisk Monday in our nation's governmental node, a vast crowd of people gathered on the damp mall, waving flags and cheering the second inauguration of President Barack Obama. After an extremely hard-fought, expensive, and divisive campaign, the result was finally made official as President Obama swore the oath of office. Considering his level of success on advancing social causes like healthcare and equal rights, the nation can look forward to four more years of expert stewardship. There has never been a better time to root for the left.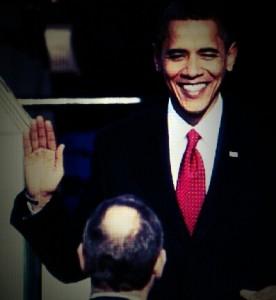 Hope is back
While the tone was much more subdued than the fervor that surrounded his first inauguration, Obama did not disappoint. For the first time in history in an inaugural speech, the President mentioned gay rights, and likened their path to that of other civil rights movements. He heavily pushed the cause of collective good. And, most importantly, he affronted the conservatives.
Baffled at their own demise, Republicans have been grasping at anything that even resembles an opportunity to make it seem like they are still doing anything at a national level. Obama's speech rebuked the conservatives and particularly the puddle of the agitated far right from where the likes of Paul Ryan spawn. John McCain hypocritically whined that Obama didn't talk enough about working together. However, no one in the nation believed the Senator, because no one heard him.
TO THE LEFT
The noise of the right was drowned out by the hopes of the left. Obama, who stayed too far to the center for the preferences of many a liberal, might buck the trend of past Presidents going into their second terms. History states that a President tends to gravitate towards the center the second time a nation elects him. With the Senate set (today) to vote on changing the rules of the filibuster, Obama might take the opportunity to move to the left instead and push through reforms on gun control and immigration.
If he succeeds at pushing through major legislation on these points (which seems probable considering the attention some in the Republican rank are getting by promoting reform), by the end of his second term and eight years in office he will have reformed healthcare, gun control, and immigration. But perhaps the most exciting part of his inaugural speech was his frank mention of climate change, and what the US must do to counteract it. This was a breath of fresh air (pun intended). It could mark the beginning of a substantial national shift in energy policy towards renewables for which many have been waiting decades.
Whatever your viewpoint, it is clear that despite the contrary claims, hope is alive and well.