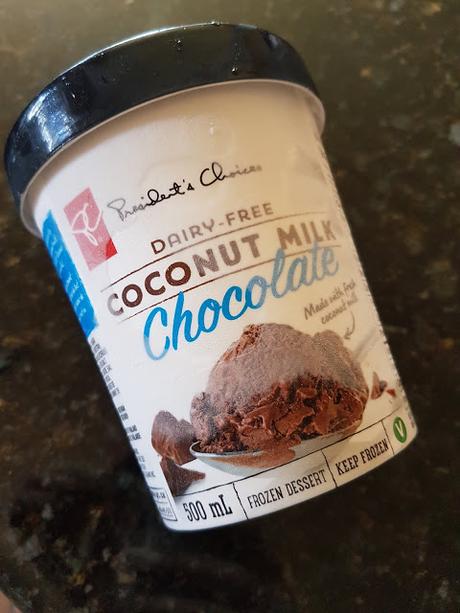 Did you miss us? We hate that we've been away for so long but we have a backlog of delicious treats to share with you. We've been doing a lot of cooking and a little baking, too. But today, we have for you a product review! Yay! New things! President's Choice just brought out a new dairy-free ice cream and it is gooooooood. It's designated as vegetarian but the ingredients don't have any animals products, whatsoever. 
It's been the first hot day in a long time so we took advantage of the opportunity to enjoy this cool, creamy and sweet vegan frozen treat. The other awesome thing about this is the price point. We paid $3.99 CAD at No Frills. We are used to paying $7+ for vegan frozen desserts (aka vegan ice creams) so to see such an affordable option is really great.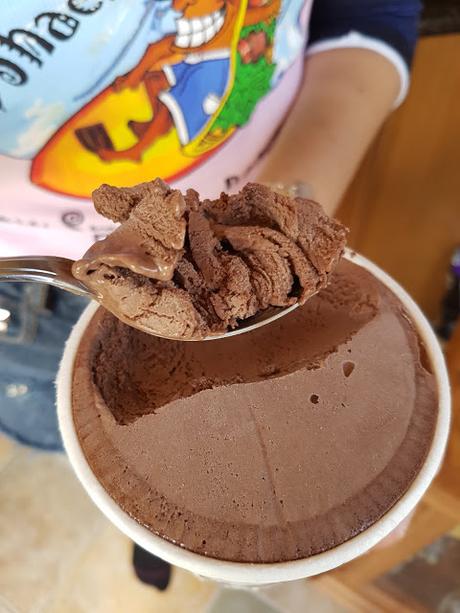 PC Dairy-Free Coconut Milk Chocolate Frozen Dessert is so soft and smooth. After only leaving it out of the freezer for 5 minutes, it's very easy to scoop. Our first impressions are that it's very chocolatey with a very slight coconut flavor. It's not overpowering at all if you're not a huge coconut fan. Comparing PC Dairy-Free Coconut Milk Chocolate Frozen Dessert to the So Delicious Coconut Milk Chocolate Frozen Dessert, this is a lot smoother, more chocolatey and much creamier. It's so great to see companies like Loblaws producing vegan options. This is an excellent product that is well-executed and I think we are going to be enjoying it a lot this Summer. We aren't sure if it will take the place of our beloved So Delicious Cashew Milk Dark Chocolate Truffle but it's a close second and much cheaper.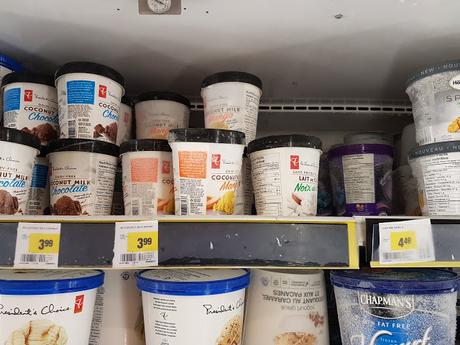 This is where we found the President's Choice Dairy-Free Coconut Milk Chocolate Frozen Dessert in No Frills. $3.99 regular price! We haven't seen a ton of advertisement for this product so it will probably go on sale soon to generate some interest. It's definitely worth trying if you like chocolate ice cream. There are some other flavours: Mango and Coconut. I am sure we will try those soon too but we are gushing about the Chocolate flavor so we wanted to share that with all of our lovely readers.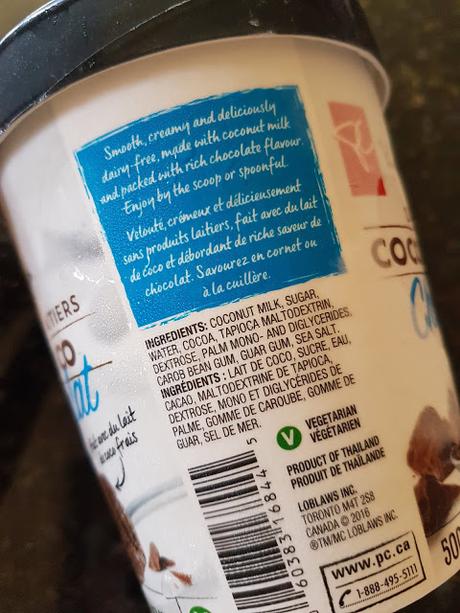 Ingredient list for those of you wondering about what exactly is in the PC Dairy-Free Coconut Milk Chocolate Frozen Dessert. You can see the Vegetarian symbol on the packaging (I don't think President's Choice has a Vegan symbol). The ingredients are: coconut milk, sugar, water, cocoa, tapioca maltodextrin, dextrose, palm mono- and diglycerides, carob bean gum, guar gum, sea salt.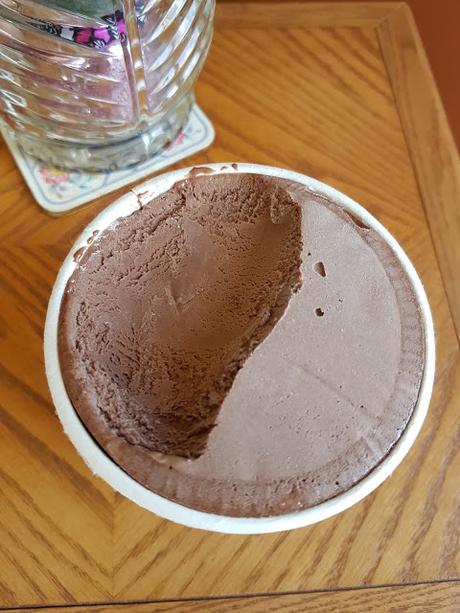 It's not a super dark color and more along the lines of a milk chocolate rather than the darkness of the So Delicious Coconut Milk Chocolate dessert. The Kitchen Grrrls give this a big thumbs up! Canada never seems to get cool or exciting products (and if we do, it's months or years after our neighbours to the South get them) so this is an exciting day haha.
More information about the PC Dairy-Free Coconut Milk Frozen Dessert is available here.