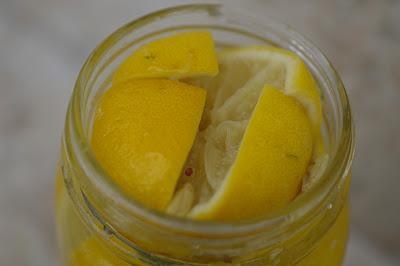 Paula Wolfert is the quintessential American expert of Mediterranean Cooking. She is also 
Gourmet
Magazines game changer #25
She has written nine cookbooks and has won both the James Beard and Julia Childs awards, among others. She also writes a column for
Food and Wine
and lives in Sonoma California.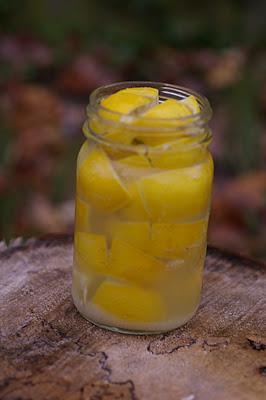 I decided to do her Seven Day Preserved Lemons recipe. I got it from Epicurious.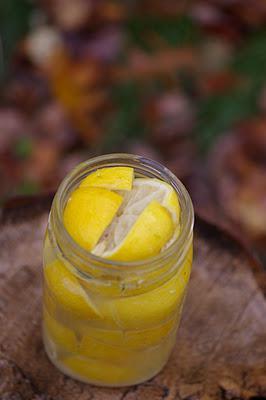 Seven Day Preserved Lemons
4 large lemons
2/3 cup coarse salt (I used Kosher) 
1 cup lemon juice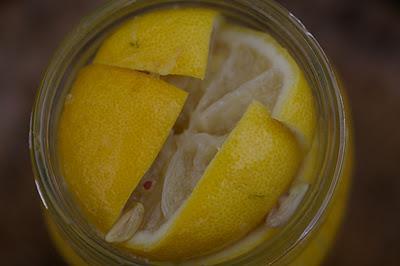 Scrub and dry the lemons and cut into wedges not cutting all the way through. Take a spoon full of salt and pack into the cut parts of the lemon. Transfer to a glass jar, making sure to pack them in. Add lemon juice to cover all the lemons. Cover the jar with a tight fitting lid. (Not metal). Let lemons stand at room temperature seven days. Shake jar every so often to redistribute salt and juice. Store covered and chilled for up to six months.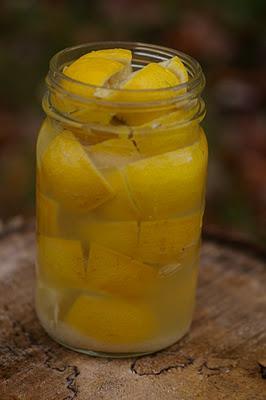 The following bloggers are also featuring the recipes of Paula Wolfert today. I hope you'll visit all of them.
Val -
More Than Burnt Toast
, Joanne -
Eats Well With Others
Taryn -
Have Kitchen Will Feed
, Susan -
The Spice Garden
Claudia -
A Seasonal Cook in Turkey
, Heather -
girlichef
Miranda -
Mangoes and Chutney
, Jeanette -
Healthy Living
April -
Abby Sweets,
Katie -
Making Michael Pollan Proud
Mary -
One Perfect Bite
, Kathleen -
Bake Away with Me
Viola -
The Life is Good Kitchen
, Sue -
The View from Great Island
Barbara -
Movable Feasts
, Kathleen -
Gonna Want Seconds
Amy -
Beloved Green
,Jeanette -
Healthy Living
Linda -
Ciao Chow Linda
, Linda A -
There and Back Again
Martha -
Lines from Linderhof
, Nancy -
Picadillo
Mireya -
My Healthy Eating Habits
, Veronica -
My Catholic Kitchen
Annie -
Most Lovely Things
Please join us next Friday when we feature Ruth Rogers and Rose Gray.
Peace be with you,Veronica