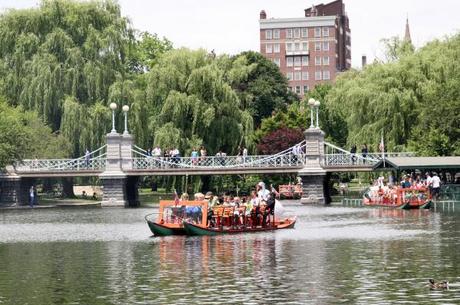 Photo: David Rosen
Join Mayor Martin J. Walsh and the Boston Landmarks Commission for a keynote talk and reception to kick off the citywide celebration of Preservation Month 2014. In the keynote, "Mated for Life: Boston and the Swan Boats," Lyn Paget will share the story of how her great-grandparents first introduced the Swan Boats to the Public Garden in 1877. These unique vessels have become a symbol of Boston and are celebrated worldwide. Bostonians and visitors alike delight in riding through the Public Garden, America's first public botanical garden, while taking  part in a time-honored tradition.  Lyn will explain why the image of the swan was chosen for these boats and their history, share stories of their international fame, and talk about how her family's business has thrived through the years.
The Friends of the Public Garden is pleased to be a co-sponsor of this event, which is free and open to the public. Please RSVP to: [email protected].
Presented by: Boston Landmarks Commission (BLC)
Co-sponsored by: City of Boston Department of Parks & Recreation, Friends of the Public Garden, Back Bay Association, the Taj Boston, and the Swan Boats of Boston
The BLC partners with organizations across the city to offer a wide array of events focusing on Boston's unique architectural and historic landscape heritage. The BLC's Preservation Month Calendar has more than 50 pages of activities and is available online at www.cityofboston.gov/landmarks and in print version from the Boston Landmarks Commission.