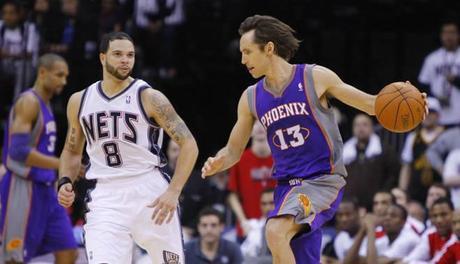 Photo: US Presswire - Jim O' Connor
- Adam Parker
The summer of 2012 is upon us, and with it, the start of NBA Free Agency at 12:01 a.m. ET Sunday morning.
Early on during the regular season, it appeared as everything was in place for the Summer of Dwight [Howard] and Deron [Williams], where they were both likely to wind up on the same team in order to try and compete for a championship.
Fast forward to now, and it's now really only the Summer of Deron, seeing as Dwight (though he now reportedly regrets doing so) decided to forgo the early termination clause in his contract and opted-in for the final year of his contract with the Orlando Magic.
But enough talk about Dwight, seeing as how he's technically not part of this class.
Instead, let's jump right in and talk about D-Will's most likely landing spots.
1. Deron Williams, PG, Top Potential Suitors: Brooklyn Nets, Dallas Mavericks
Normally, a player of Williams' caliber would have more potential suitors lining up at his door than Kim Kardashian, but because he's already narrowed his personal list to Dallas and Brooklyn, the other teams have basically been told to stay away and not bother wasting their time.
Mark Cuban was primed to execute the grandest of all grand mastermind plans this summer, by freeing up enough cap flexibility to bring both DH12 and D-Will to Dallas to team with established superstar Dirk Nowitzki. Talk about a mass exodus. Not only would it instantly have put Dallas back in title contention virtually overnight, but the Mavs' would also sport a Big Three that rivals the coup d'etat Pat Riley pulled down in Miami.
Too bad that's no longer happening. Even so, don't think Cuban is going to just sit idly by and doing nothing. The Mavs' front office is still expected to throw everything and the kitchen sink to lure Deron to Dallas to team with Dirk and longtime friend Jason Kidd. Not to mention, Deron is originally from the Dallas area, so being able to go 'home' and play all of your home games in front of your family and friends is definitely something that would be enticing.
Oh, and going to Dallas (barring a DH12 to Brooklyn trade) gives Deron his best chance to win a title.
He can make roughly $25 million more by staying in Brooklyn, but unlike some athletes who burned through their millions faster than Terrell Owens, Williams isn't hurting for cash so that likely won't be a huge factor where he signs.
Brooklyn would love to keep him, though, and many people even the Mavs' Nowitzki, believes that it's "50-50" on whether Williams ends up in Big D or staying in the Big Apple to help the Nets begin the new era in the Barclays Center.
Our money, barring a Dwight to Brooklyn trade like mentioned earlier, is that D-Will will end up with Dallas.
Regardless of where the 28-year-old star point guard signs, the loser won't be done yet. No, instead of throwing themselves a pity party, the losing team in the D-Will sweepstakes will immediately pull a 180 and shift their focus to another star point guard that they let walk back in 2004 -- Steve Nash.
2. Steve Nash, PG, Top Potential Suitors: Toronto Raptors, Indiana Pacers, New York Knicks, Phoenix Suns, Los Angeles Lakers, Miami Heat
Nash might be the
true
Kim Kardashian of this class. He undoubtedly has the most potential suitors, partly because he's getting a little long in the tooth and would come cheaper than Deron at this stage of their respective careers, but also because -- his game hasn't declined one bit. In fact, I'd go so far as to say he's gotten better. I'm sure you remember that quote from the American Pie series where Paul Finch likens his muse aka Stifler's mom to fine wine in that "she gets better with age." Though the Nash and Stifler's mom have nothing in common, the comparison fits nonetheless. At age 38, Nash averaged just over 12 points and ten assists per game and shot a career-high 53.2 percent from the field.
Two-Time has still got it.
But let's try to narrow down this list.
The Raptors are a good story seeing as how it would be a homecoming of sorts for the British Columbia native. However, they have virtually no chance of winning a title, which at 38 going on 39, has to be near the top of Nash's priority list. Thanks but no thanks, Toronto, you're out.
The Lakers are also interested now that Ramon Sessions has opted to become a free agent. Could you imagine a backcourt of Nash and Kobe? Championship? Maybe. That would be ridiculously amazing, the type of stuff you only see in fairy tales. And a fairy tale it likely is, indeed.
Though Nash has made it known that he will consider every avenue offered to him, he's also admitted that it would be tough to put on a Lakers jersey every night as he's been on the other side of that bitter rivalry for so long. Nash is old school, he's not really interested in a 'if you can't beat them, join them' scenario. Sayonara, Lakers.
The Knicks could be a possibility seeing as how Nash spends his off-seasons in his New York home. Plus, he could team up with Carmelo Anthony and former Phoenix teammate Amare Stoudemire. The only road block I see her is that they could not offer as much money to Steve as either Phoenix or Toronto could. Not to mention the city's love affair with Jeremy Lin. Would they really toss
Linsanity
aside (at least temporarily) so quickly? I'm guessing absolutely for a player of Nash's caliber, but still, that team is a mess and I'm not sure if inserting Nash would be that instant fix that could plunge them into immediate title contention, either. It could happen, but I'm not seeing it.
For my money, it all comes down to the NBA Champion Heat, the Indiana Pacers or Nash's team of the past eight years -- the Suns. Obviously, Phoenix would love to have him back. Even at his age, he's the face of the franchise and the wizard behind the curtain that makes the team go. However, Nash has said that he will only consider returning to the Valley if the front office made drastic improvements to the roster. They have money to spend, but unfortunately, they also have an owner in Robert Sarver whose infamy for being a penny-pincher is widely known, especially in Phoenix. U
nless they go totally HAM in free agency (which I don't see how it'd be possible), I wouldn't hold your breath waiting for Nash's return.
Nash is also on Indiana's radar, and considering they took Miami to six games without consistent play from the point guard spot, the allure of Nash possibly being able to help them get over the hump is intriguing. They could also afford to pay him more than teams like Miami or New York could.
Anything is possible I guess, but if it were me (even though I'm a Suns and diehard Steve Nash fan), I'd either go to Indiana and try to knock off the Heat or take whatever money Miami could offer me and give myself the best possible chance to win a title. Some people believe Miami wouldn't be a good fit because LeBron and Dwyane Wade dominate the ball so much. Something tells me that they would both be willing to defer team-running duties to one of the best point guards in the history of the game.
3. O.J. Mayo, SG/PG, Top Potential Suitors: Indiana Pacers, Brooklyn Nets, Chicago Bulls, Boston Celtics
Oddly enough, Mayo was almost traded to three of these teams (Pacers, Nets, Celtics) before last season's trade deadline. Now that the Grizzlies have not extended the former USC combo guard a qualifying offer, teams are free to pursue him relentlessly now that they know Memphis won't be matching any offers.
I really don't see a bad fit here. 
In Indiana, he'd either be a combo guard playing point guard or be the sixth man off the bench. They could pay him (though not the ideal amount he's probably looking for) and he'd be on a team that is on the cusp of a championship.
Boston offers the best chance to win, but he'd also have to take loads less money to do so as well as being the team's sixth man. But hey, if he just wants to win a title, Beantown is the best option on this list.
In Chicago, Mayo could hold down the fort while Derrick Rose works his way back from ACL surgery. Upon Rose's return, he'd likely be in that sixth man role while spelling Rose and Richard Hamilton. Speaking of Rip, he's entering the last year of his contract, which means Mayo, if he came to Chicago, would be the long-term answer at shooting guard the club has been looking for for some time.
Brooklyn seems like the least likely unless owner Mikhail Prokhorov and his front office can lure D-Will (and possibly Dwight) to the Nets as well. Mayo could get paid well, but the team wouldn't be very competitive without at least one (preferrably both) of those stars.
Where does Mayo end up? Our guess is as good as yours. So many situations seem to be good fits in their own way.
Where will the dominoes fall? We'll find out starting at midnight ET tonight.
Be sure to follow Beard And Stache on Twitter 
@BeardAndStache
, 
and also Adam 
@Adam_Parker43
, Like our Facebook page 
HERE
!