As most of us know,rice and dhal are staples of South India and we eat this almost daily.That too in a home with growing toddler the importance of dhal and ghee is really high.This is when different recipes for preparing dhal come in handy. Though very healthy we cannot deny the fact eating the same dhal as sambar or with simple tadka again and again can turn out to be boring.But thank goodness that in our Indian cuisine there are so many many versatile methods and recipes using the same ingredients which make the entire dish taste completely different.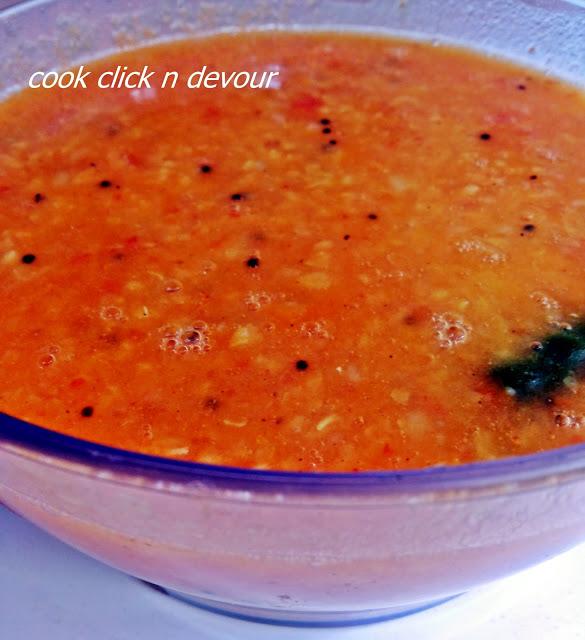 And it also goes without saying that we have many genius chefs (aka moms,mils,grand moms) at our homes who can simply do magical tricks with unbelievably simple ingredients and create something gourmet. This simple stew was one such thing my mom made.She actually made this for my daughter,but it was so good that I had her make it again,noted down the recipe and photographed it. This is a complete package of nutrition for toddlers and kids with potaoes,moong dhal and ghee.Try this once and I am sure you will like it.
How to make potato moong dhal stew-Recipe.
Ingredients.
1/2 cup spilt yellow moong dhal
1 large potato
2 large tomatoes
1 green chilli
1/2 teaspoon sambar powder
1/2 teaspoon mustard seeds
10-12 curry leaves
2 teaspoons ghee
Salt

Method:
1.Blanch tomatoes,peel the skin and grind it to puree.Pressure cook moong dhal and potatoes until soft.
2.Peel the potatoes and mash very well until there are no lumps.Transfer the tomato puree to a deep vessel and bring to a boil with little water.Add the mashed potato dhal and add little more water,cover and cook for 5 minutes.Add salt,sambar powder and cook for f more minutes.
3.Temper green chilli,mustard seeds and curry leaves with ghee,transfer to the stew along with ghee and mix well.Serve with steamed rice or rotis.
Time:30 minutes
Serves:4
Notes:
1.For vegan version replace ghee with sesame oil.
2.Lemon juice can be added after removing from heat.
3.Vegetables like carrot,green peas can be added.
4.Tastes great with papad (appalam).