Our home is a typical south Indian one where rice is the staple food for most of the days.But once in a while we do skip rice for either lunch or dinner and eat flat breads with wheat or go for something totally different like pasta or noodles.Now when we talk about the usage of wheat flour in India there are N number of flat breads across the country,for each state.Among these numerous varieties I love stuffed parathas very much as they are so tasty as well as filling and healthy too.Today I have tried to simplify the ever popular Indian flat bread aloo paratha.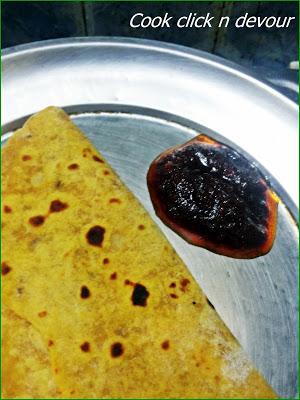 Aloo means potato in Hindi.Aloo paratha is stuffed Indian flat bread made on stove top using whole wheat flour and boiled potatoes with few other spices.Cooked and mashed potato is stuffed and rolled in the wheat dough in this dish.Here in this recipe I have changed the procedure to avoid stuffing and made them like just ordinary chapatis.In this way it is very easy to make and also you can make very thin chapathis.It is very tasty,healthy and filling too.Try this and it will be a very good change from your usual dinner/lunch that you would happily welcome.I served this with spicy tomato pickle,you can serve with any pickle of your choice and/or raita
Potato chapathi recipe
Star ingredients:Potato and whole wheat flour
Time:10+30+15 minutes
Yield:8-10 chapathis
Ingredients:
2 large or 4 small potatoes
1 1/2 cup whole wheat flour
1-2 teaspoons oil
1/2 teaspoon cumin seeds
1/2 teaspoon turmeric powder
1/2 teaspoon chilli powder
Salt
Method:
1.Pressure cook the potatoes.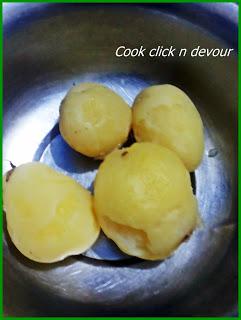 2.Peel the skin and mash them very well.There should be no lumps at all..Add all the ingredients except wheat flour to the mashed potatoes and combine well.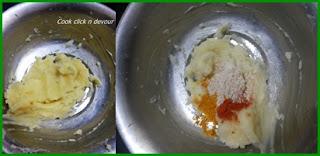 3.Add the wheat flour to the mashed potatoes and add oil.Mix with your finger tips first.Add minimum amount of water and start kneading.When you start kneading potato will leave out moisture so just sprinkle water as and when needed.The dough will be very sot and sticky.Rest for 30 minutes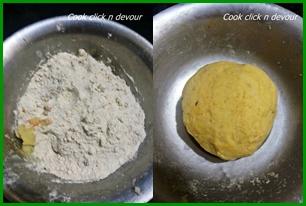 4.Pinch equal sized balls and roll out thin chapathi.Dust with flour when ever needed to avoid sticking.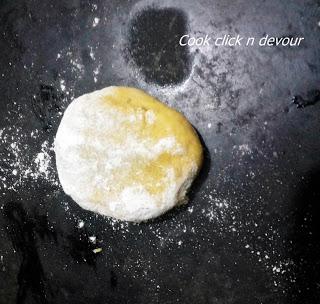 5.Heat a tava and cook the chapathis from both sides till light brown spots appear.You can cook them with oil/ghee or on their own as per your preference.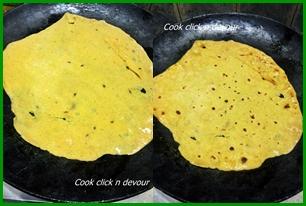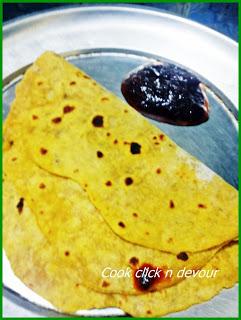 Notes:
1.I used just about 1/4 cup of water for this quantity.Mashed potatoes make the dough quite moist and soft as the dough rests
2.You can add chaat masala powder or any spice powder of your choice to the dough.
3.You can even grind the cumin seeds along with cilantro and green chilli and add to the dough for a more flavorful chapathi.