For the past few months what ever I cook I have been thinking twice that if my daughter would eat it.Her taste seems to change every now and then.She was behind sweets for the past few weeks but now she doesn't care much for sweets.So with this kind of frequently changing taste buds and necessity to feed something that,she will appreciate for taste and as well as healthy that would keep her going for 2-3 hours,I am in constant look out for toddler friendly recipes.I don't want to encourage the habit of special cooking for children,so I always make something that everyone in the house can eat.It is just that I go little easy on chilli powder kind of stuff,rest assured the food is tasty with its original flavors.These carrot potato cutlets are one such dish I made recently.They are very different from cutlets served in restaurant.No special ingredients and just suitable for children and adults as well.A very tasty healthy and filling breakfast.Give it a try :)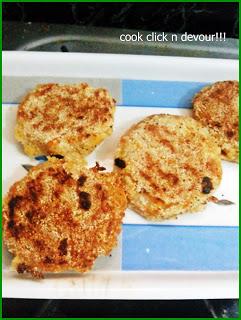 Carrot-potato cutlet
Star ingredient-Carrot,potato
Time-20 minutes
Yield-10
Ingredients:
2 large potatoes
1 large carrot
1 table spoon rice flour
1/2 teaspoon chilli powder
1/2 teaspoon chaat masala powder
1/4 teaspoon asafoetida
1/2 teaspoon cumin powder
1/2 teaspoon coriander powder
1 teaspoon ghee
Salt
Rava or bread crumbs for coating
3 teaspoons oil
Method:
1.Pressure cook potato and carrot.Peel them and keep aside.
2.In a mixing bowl take all the ingredients from cooked potatoes through salt,mash very well.(Tiny pieces of vegetables is fine).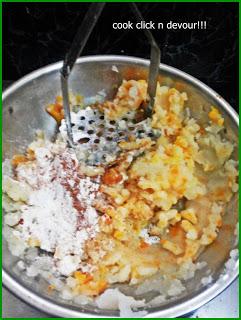 3.Make a loose dough.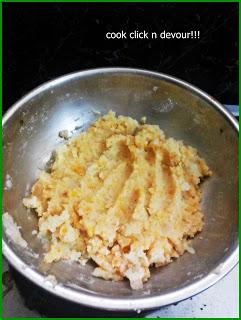 4.Pinch a small ball and flatten it to form small cutlet.Coat the cutlet with rava or bread crumbs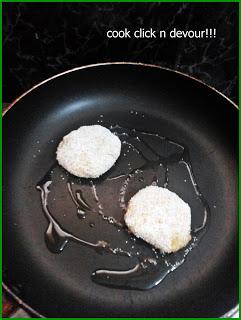 5.Heat a shallow frying pan with one teaspoon oil,once the oil is hot shallow fry the cutlet from both sides.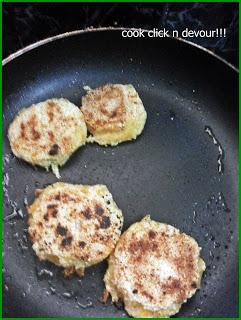 Repeat the same with the entire batch.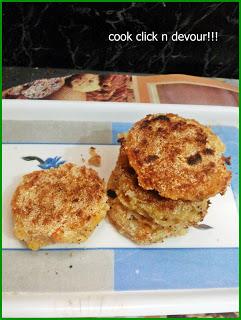 Notes:
1.I used rava as coating but you can even use bread crumbs if you prefer .
2.Unlike cutlets in restaurants  these are not heavily coated and deep fried.So these are best eaten as soon as made.Else these may turn soggy.
3.You can even use beetroot,mashed peas along with potato-carrots.
4.Ghee gives a very good flavor and recommended for toddlers.You can avoid ghee and replace with oil to make it vegan