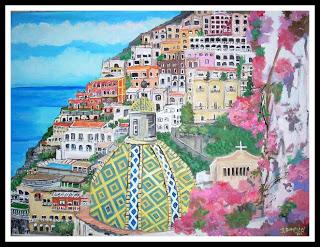 Positano

is at the center of the famous Amalfi Coast and south of Naples.
The view of

Positano

from the beach is unique and offers a perspective of just how precarious some of these buildings are as they cling to the side of the mountain, taking up every square inch of land.
Positano, Italy:
Jewel of the Amalfi Coast 
Specializing in scenery, shopping and sand, the resort town of

Positano

hangs on the most spectacular stretch of the coast. It's a pleasant gathering of cafes, galleries, and boutiques. There's little to do here but eat, window-shop, and enjoy the beach and views...and that's exactly the way its many visitors like it. 
For more information on the Rick Steves' Europe TV series — including episode descriptions, scripts, participating stations, travel information on destinations and more — visit http://www.ricksteves.com