Portofino

is a small  Italian fishing village in Liguria and is located east of Genoa. The neighboring towns of Portofino are Camogli and Santa Margarita Ligure. These two communities managed the Portofino Portofino Marine Protected Area in which it is located. In addition, the municipality belongs to the Portofino nature park.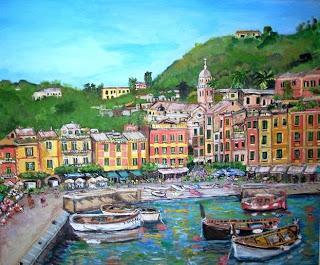 Portofino

is filled with expensive boutiques, restaurants, cafes and luxury hotels making it an ideal holiday destination. Beautiful pastel houses line the shores of the harbor whilst a landscape to rival sits inland.
Sitting on top of a hill overlooking a village is the Castello Brown. You can reach the castle by a path near the Botanic Garden. The castle is open from 10 am until 7 pm in summer, and until 5 pm in winter. The castle has a nice garden and affords great views of Portofino and the sea. 
Climbing up at least to San Giorgio is a must.
From the Church you can have compelling views of Portofino – so it's worth walking up there for some good aerial photos. It takes only a few minutes from the square in the center of town.
The church of San Martino is the 12th century construction which dominates the whole central part of Portofino. It has both religious and archaeological importance in the history of the place. The hanging arches and its beautiful rose window stand testimony of its Middle Ages past. Interior of the church is in particularly attractive and richly adorned with marbles, sculptures and valuable paintings. The triptych of saints Rocco, Sebastiano and Fabiano belonging to the Genovese school, dating back to the 16th century. The stripes on its front facade are very characteristic for the Lombard Romanesque style which could be seen on most church of Liguria.
There are a number of good hiking trails both along the coast and on inland routes, many offering spectacular views. The northern part of the park is wooded with a variety of trees while in the southern part you will find more wildflowers, bushes, and grasslands. Olive trees are cultivated in many places and close to the villages you may see orchards and gardens.
Portofino's typical architectural style adds to the beauty of the town. Most of the buildings are painted in bright colors, including red och-re, green and yellow, and accentuated with decorative frescoes.
Portofino, Italy
   Video by

Ray Woods
   http://www.ray-woods.com/
Perched on Italy's northwest coast,

Portofino

is one of the most perfect, most photogenic fishing ports in the Mediterranean.