Here is  the painting I finished, commissioned by a client from a recent trip that he took. This is a

Kachere

tree located at

Protea Hotel Safari Lodge

, Chisamba."

http://www.proteahotels.com/protea-hotel-safari-lodge.html

"
Ka
chere

tree is a

fig

tree

. Once it grows it produce a big tree with lots of shades.
The

fig

species has a significant presence throughout Africa, with 112 species while it also has a number of distinctive characteristics.
The trees provide a number of benefits to animal species and humans alike. The fruit is enjoyed by elephants, antelope, monkeys, birds and bats, while leopards love to lie on their branches and the natural holes and crevices created by the trunk provide habitation for a number of species including warthog.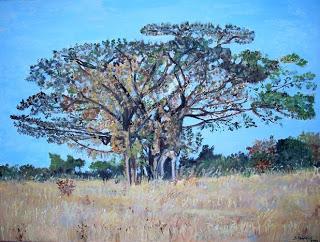 Protea Hotel Safari Lodge, Zambia

 
Video by:

Ryan Mackie
Book & Quote PROTEA HOTEL SAFARI LODGE, Zambia:
http://www.south-african-hotels.com/hotels/protea-hotel-lusaka-safari-lodge/


Location: Lusaka City, Lusaka Region, Lusaka, Zambia




The three star Protea Hotel Safari Lodge is situated in Chisamba, Zambia, only 30 minutes from the capital city of Lusaka. The Lodge is located on a beautiful 2500ha private game reserve where leisure and corporate guests are accommodated in a relaxed and tranquil environment, surrounded by nature.




Accommodation at the Protea Hotel Safari Lodge, Zambia




The Protea Hotel Safari Lodge in Lusaka features several different accommodation options. There are chalets, deluxe rooms and standard rooms available to choose from. Guests may choose to stay in one of the 20 standard rooms each of which is equipped with either a king size bed or twin beds.




South African Tourism Company




Tel: +27 (0)21 794 9050




Mobile: +27 (0)827 823 142




Fax: +27 (0)21 794 9995


Email: [email protected]
Website: http://www.south-african-hotels.com
Website: http://www.south-african-lodges.com
Website: http://www.indian-ocean-island.com