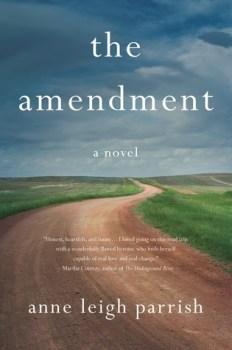 The Amendment by Anne Leigh Parrish
Published by Unsolicited Press on June 26, 2018
Genres: Fiction, Literature & Fiction, Women's Fiction
Pages: 355
Goodreads
Buy on Amazon

When Lavinia Starkhurst's husband is killed in a freak accident, she takes to the open road and meets a number of strangers, all with struggles of their own. Through these unexpected and occasionally hilarious encounters, Lavinia reflects on her past deeds, both good and bad, explores her two marriages, her roles as caregiver and wife, hoping all the while for self-acceptance and something to give her new life meaning.

"The Amendment is nuanced, witty, and insightful, exploring the fetters of family and community that prove impossible to escape. Parrish is a smart, savvy writer with a gift for exploring landscapes of both geography and emotion. Once again, she has produced a work of considerable charm and poignancy."–Jacob M. Appel, author of Millard Salter's Last Day.

"The Amendment is a beautifully written story about a new widow's struggle to wrap her mind around her husband's death by setting off on a cross-country journey in search of she knows not what. Parrish's prose is eloquent yet crisp, moving the story along quickly. A delightful must-read, sure to take its place among today's top literary fiction!"–Michelle Cox, author of The Henrietta and Inspector Howard Series.

Anne Leigh Parrish is the author of Women Within; By the Wayside; What Is Found, What Is Lost; Our Love Could Light The World; and All The Roads That Lead From Home.
I love being a BookSparks BookSharks because every now and again, they have Pop Up Blog Tours where they randomly offer a book for us to read and review. They often throw in with some other extras thrown in for our extra-curricular social media sharing.
The Amendment is about a pretty tough lady named Lavinia Starkhurst.  She's a 50 something woman who suddenly becomes widowed when her second husband, Chip, is struck by lightning on a golf course and dies.  Lavinia tries to find a new purpose for her life so she takes off on an open road trip where she meets a number of quirky strangers, all with struggles of their own.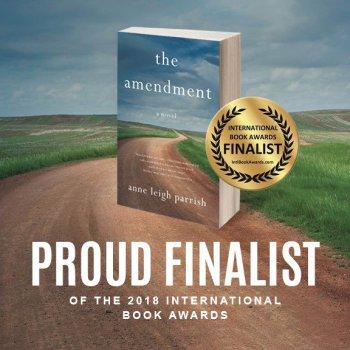 While driving alone, Lavinia has a lot of time to ponder many things and reassess her life. I try not to write spoilers, and to tell you much more of the plot of The Amendment would break my rule. I will divulge that protagonist, Lavinia, is a fun and witty character with a sharp tongue. The characters were very developed so that I felt well acquainted with them throughout the story.
You'll just need to pick up a copy of this book so you can enjoy this great story too. I love how this author writes short chapters – it increases the chances of me reading way too much of the book, staying up way too late, and powering through a book cover to cover – exactly what happened in this case!
---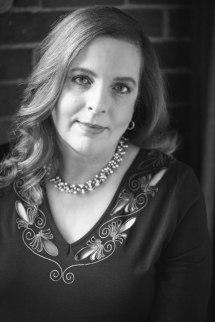 Since 1982, Anne Leigh Parrish has called the Pacific Northwest Home. A native of the Finger Lakes region of upstate New York, Anne spent her high school years in Princeton, New Jersey, and then made her way west.
Anne Leigh Parrish's debut story collection, All The Roads That Lead From Home (Press 53, 2011) won a silver medal in the 2012 Independent Publisher Book Awards. Her second collection, Our Love Could Light The World, (She Writes Press, 2013) is a Kirkus Reviews recommended Indie title, and a finalist in both the International Book Awards and the Best Book Awards. She lives in Olympia, Washington.
Anne has been married for many years to her fine, wise, and witty husband John Christiansen. They have two adult children in their twenties, John Jr., and Lauren.  You can connect with Anne on social media: 
---
I received a complimentary paperback copy of this book from the publishers as part of a Pop Up Blog Tour from BookSparks in exchange for this post.  A positive review was not required.

~ ~ ~ ~ ~ ~ ~ ~ ~ ~ ~ ~ ~ ~ ~ ~ ~ ~

It would be great if you would stay connected with me!! You can follow me on Twitter @DebiL1611, like me on Facebook at 2014 and Beyond, circle me on Google+, follow me on Tumblr, Instagram and Bloglovin', subscribe on YouTube, or connect with me on LinkedIn and Pinterest.

Please make sure to visit my homepage and subscribe to my blog for more great posts on running, fitness and lifestyle topics as well as food, product, music and book reviews, and more!