by Sam Marsden / The Telegraph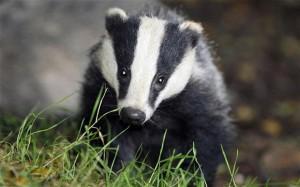 Photo: Ben Birchall/PA
Officers detained a 38-year-old man after a protester was allegedly attacked in the cull zone in Gloucestershire on Thursday night.
A car belonging to an anti-cull activist also had both its wing mirrors broken off and thrown into a field, according to one of the demonstrators present.
Tensions have become inflamed between those in favour of killing badgers to prevent the spread of bovine tuberculosis and opponents of the programme amid claims that the cull is going much more slowly than planned.
The altercation happened just before midnight on Thursday around farmland near the village of Tirley, about eight miles north of Gloucester.
A 34-year-old protester, who only gave her name as Megan, said she and two friends were patrolling the area when they heard a gunshot.
The activist said she went up a footpath to look for wounded badgers and was confronted by a group of four men she assumed to be "landowners in favour of the cull".
She alleged that when she returned to the road, one of her friends was assaulted, and she found that the wing mirrors had been smashed off her Ford Focus.
"My friend wasn't too bad. He was quite shaken up but he recovered quite quickly," she said.
Gloucestershire Police arrested the 38-year-old man, from the Gloucester area, on suspicion of common assault. He was later bailed until November 4.
Activists attempting to stop the cull have previously been held on suspicion of aggravated trespass, but this is the first time police have made an arrest for assault.
The Government has given permission to farmers to kill around 2,000 badgers in west Somerset and 3,000 in west Gloucestershire as part of efforts to stop the spread of bovine tuberculosis.