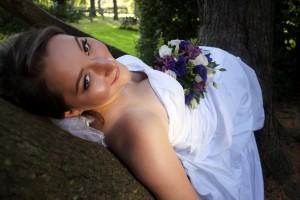 CC:Image Source
Ever since you were a little girl, you always dreamt of walking down the aisle in a gorgeous wedding gown. And now that you have the opportunity to turn your dreams into a reality—you want your gown to be perfect for your wedding day. But, with the plethora of wedding dresses to choose from, sometimes picking "the one" can become a stressful and overwhelming endeavour.
Dress shopping should be fun for the bride-to-be. However, if you don't equip yourself with the basics of wedding dress shopping, you may find yourself in a difficult situation where you end up being disappointed with your decision.
To avoid getting anxious about your choice, you need to learn the tricks in choosing the ideal wedding gown. Without further ado, here are some pointers to help you find the perfect wedding dress that is one hundred per cent you!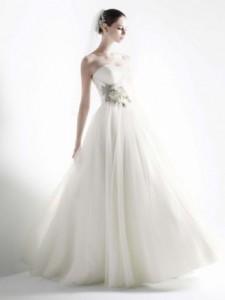 CC:Image Source
Pointer #1: Don't rely on trends, know what you really want.
There are no rules when it comes to choosing your wedding gown. But, the most significant advice of all the "find your perfect wedding gown" tips is that you need to choose a gown that fits your personality. This means that you need to find a dress that defines who you are. Don't rely on what's on trend, instead make sure to select the gown that will make you feel like a bride. The gown that will boost your confidence and enhance your natural beauty.
To help you find the perfect wedding dress, focus on what you really want. The important details such as the material (e.g., chiffon, lace, tulle or silk); the cut (e.g., tea length, short or long); the style (e.g. long sleeves, sleeveless, halter or tube); and the silhouette (e.g., A-line, ball gown, goddess, empire or sheath)—should be chosen by you, and not selected by your sister, your mother or your best friend. Always remember that the important thing is for you to be comfortable in your dress because it will radiate a positive vibe that can make you look beautiful and glowing on your special day.
Pointer #2: Match the style of your gown to your wedding theme.
Think for a moment and imagine the type of wedding you want to have when you are choosing your dress. Are you planning to wed during the fall or winter season? Or do you want it to be a spring or summer affair? Is it a formal evening celebration or a casual party? Are you getting married in a garden, a vineyard, the beach, or the countryside? By using the theme of your wedding, you can narrow down your options as to what type of dress is ideal for the celebration. Take for instance, if you are planning on a rustic country wedding theme, you can pick a vintage sheath wedding gown or an empire dress made of lace. Or if you want to exchange your wedding vows on the beach, then you can choose a silk embellished halter gown—a simple dress, but cool and elegant to look at.
Pointer #3: Learn what type of gown flatters your body.
Although there are different cuts and styles of wedding gowns, which you can find in thousands of bridal boutiques throughout the world, not all of these dresses will make you look good. Knowing which cut or style suits your body shape makes a big difference in finding the ideal dress for you.
To find the perfect wedding gown, make sure to choose the one that flatters your body. Look for a dress that will accentuate your best assets, while drawing attention away from the features that you want hidden. For example, if you are pear shaped, find a gown with an A-line skirt, deep neckline and diagonally draped bodices. Additionally, and avoid wearing a dress with full skirt, high neckline and mermaid silhouette since these can make your pear-shaped hips look bigger.
Bottom Line
When it comes to choosing the perfect wedding dress for your special day, remember that no matter how beautiful the gown is, if you don't feel comfortable with it, then it will never create a positive effect on you. However, if you choose a wedding gown that you really love, then you will radiate with beauty because it will make you feel wonderful and confident.
Before choosing a wedding gown, you need to forget about high fashion. Bear in mind that it is always better to select a dress that reflects your personal style than to pick an ultra-trendy wedding gown straight from the catwalk, and end up regretting your decision all the days of your life.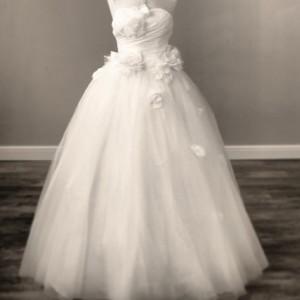 CC:Image Source
Featured images:
 

License: Image author owned
By Debra Wright
Debra Wright is a creative online writer who supplies cyberspace with interesting and informative write-ups about her favorite topics including Wedding Dresses. A wide reader and ardent web surfer, she believes she can do anything as long as she has an Internet connection. Follow Debra on twitter @debrawrites…

Debra Wright