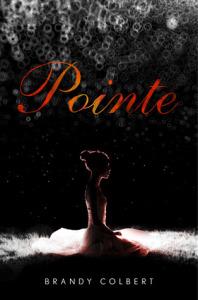 What's it all about?:
Theo is better now.
She's eating again, dating guys who are almost appropriate, and well on her way to becoming an elite ballet dancer. But when her oldest friend, Donovan, returns home after spending four long years with his kidnapper, Theo starts reliving memories about his abduction—and his abductor.
Donovan isn't talking about what happened, and even though Theo knows she didn't do anything wrong, telling the truth would put everything she's been living for at risk. But keeping quiet might be worse.
What did I think?:
Pointe by Brandy Colbert was one of my Chrissi Cupboard Month picks a while back now and recommended as a "must-read" book by my sister who is also a blogger over at Chrissi Reads. I remember when she first read it and reported back and she had a very visceral and emotional response to the story so I was intrigued as to whether I would feel the same. On finishing it, I can definitely see why she had that response. This novel is packed full of difficult and dangerous subject matters that could be quite tough to read about for some people. Ultimately, it wasn't a five star read for me but it was a solid, memorable piece of fiction that I still remember months down the line after reading it.
This is partially due to our main character, a young girl called Theo. She has had a lot of drama and personal struggles in her short life so far including an eating disorder and difficult first relationship and has had to deal with her best friend, Donovan being abducted and secreted away where she cannot reach him. She is starting to get her life back on track, feeling brave enough to date boys again but her real passion in life is dancing and she is in the tough process of training to be a prima ballerina. When Donovan unexpectedly returns however, it dredges up a host of memories that Theo does not welcome and is definitely not prepared for. Has her friendship with Donovan stood the test of time? And can she put old ghosts to rest, start telling the truth, accept help from her close family and friends and finally move on from the past?
As I mentioned earlier, there are some awful subjects tackled in this novel. So, trigger warnings for eating disorders, abuse, drugs, cheating, manipulation….to name a few, the author has covered the entire spectrum of potentially damaging incidents that any person would be terribly unlucky to suffer! Theo may not be a particularly likeable character for some readers but I found her refreshingly real and even though she was flawed and made multiple mistakes and questionable decisions, the whole point of the novel is watching her adapt and grow into an adult who learned from what she had been through. It's a gritty, dark story that does pull on your heart strings and unsettle you but is entirely worth the murky moments when we see how far our characters have come. Finally, I also loved that our main characters were black (hooray for a bit of diversity!) but their race was never fussed over or exaggerated. As it should be, of course!
Would I recommend it?:
But of course!
Star rating (out of 5):

Advertisements