A wrinkle minimiser in the form of a translucent gel, for intensive nourishment of the skin through the day. The natural antioxidant effects of its fruit oils protect the skin from oxidative sun damage and environment induced skin conditions. Indian Ginseng, fennel and vetiver rejuvenate the aging skin, strengthen the collagen matrix and boost immune functions to give it a firm and a youthful appearance.- Its all about PLUMP UP Age defying Gel from Just Herbs.
Contains certified organic Fenugreek and certified organic cold-pressed Apricot kernal oil
Free from petrochemicals, parabens, SLS/SLES PEG/PPG, Genetically modified ingredients(GMO) and other synthetic ingredients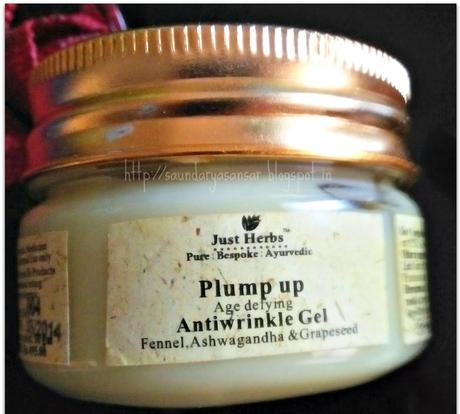 Price & Quantity- 50 gms for 495 INR. You can order it from Just Herbs site- www.justherbs.in or nykaa.com during discount sale.
Fennel ext. , Ashwagandha*(Withania somnifera) Grapeseed oil , Fenugreek seed ext.*, Vetiver ext. , Soy lecithin , Allantoin , Apricot kernel oil** , Carrot seed oil Other ingredients: Aqua, Glyceryl stearate citrate/Cetearyl alcohol/Glyceryl Caprylate***, Vegetable Glycerine*, Aloevera Leaf Juice*, Dicaprylyl Carbonate***, Octyldodecanol***, Acrylates Copolymer, Triethanolamine, Disodium EDTA, Potassium sorbate, Sodium benzoate, Herb-Essential oil Complex (natural preservative), Fragrance,CI 19140,42090.*Certified Organic **Certified OrganicCold Pressed *** ECOCERT approved (Natural ingredient from renewable resources)
Cleanse skin with cotton wool dipped in raw milk. Massage well into the skin for 4-5 minutes till absorbed. For best results, apply towel steam followed by JH Herbal Anti-wrinkle Pack as directed and simultaneously use at night JH Youth Age- Defying Anti-Wrinkle Cream (night repair). Use everyday with the first signs of premature aging.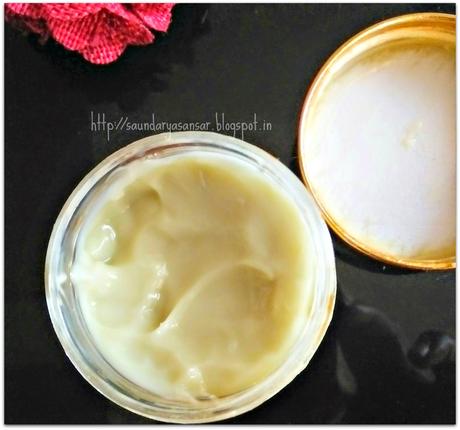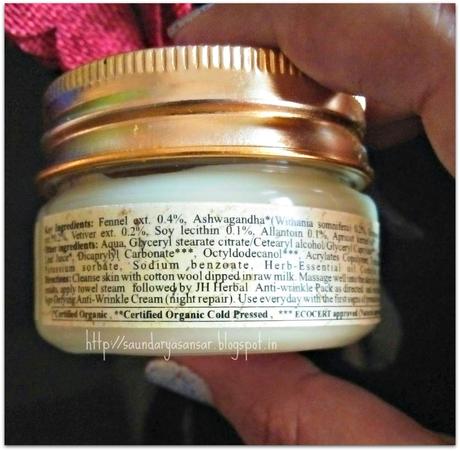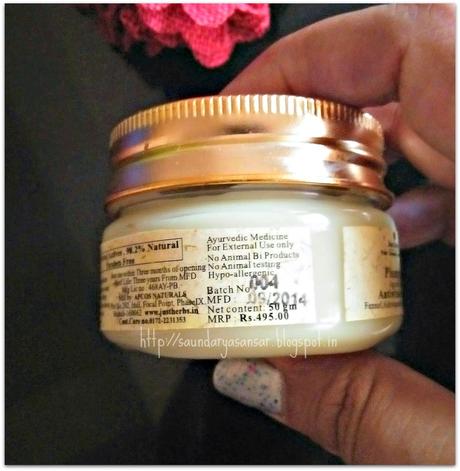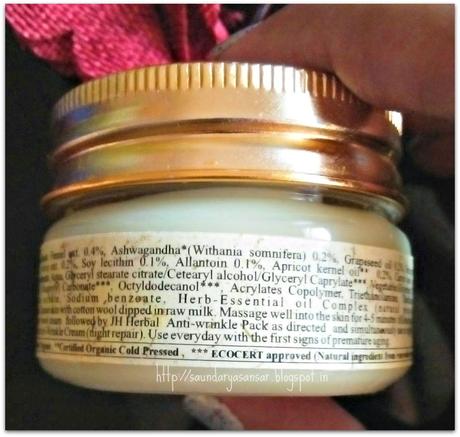 I was looking for a night cream (read Gel) for my combination skin. Since long was planning for JH Youth Age -Defying Anti wrinkle cream but got to know that it is not advisable for oily to combination skin. I settled for Plump-Up as its a gel and does not have sunscreens or something specific for day use only.
Plump Up Age defying Gel from is a +Team Just HerbsTranslucent gel based product belonging to Anti- Ageing category. This is my second JH purchase after Fagel All purpose beauty gel. Reason behind that its natural, free from chemicals, with certified organic ingredients, cruelty free and an ultimate skincare luxury.
Plump up Gel comes packed in a plastic jar secured with a tin screw cap...quite an antique and attractive packaging. But its unhygenic as you need to dip your fingers to scoop out the product every time. I dont mind that as i keep a wooden spatula for this.
This is a light green gel with mild and pleasant smell. The gel spreads well on your face giving a thin veil of gel on your face which is absorbed within next few seconds. I apply it all over my face including area around the eyes too with gentle massage strokes. when its about immediate results, next morning i wake up with a plumped & hydrated skin with a little glow.
During past few weeks of use, i found that it surely helps keeping my skin softer and plumper. A little improvement is skin tone, as its little more even with acne scars faded. While talking about fine lines which i have few on my forehead, have not observed any significant change as yet. Although it did not break me out but also not helped in preventing or controlling acne.
Over all its a SAFE product for night usage but would not recommend for day as you need to layer on an additional sunscreen. Good for 20-30 age category and for all skin types.
Have you used Plump Up gel from Just Herbs?? whats your view?