If you have been a part of helping someone navigate breast cancer, please share your experience in a guest post.
What you share is more important than you know. Any cancer experience is a lonely and frightening journey. But, breast cancer hits us in our self image. It impacts on how we look to ourselves and how we perceive we look to those close to us.
Much of the concerns that newly diagnosed women share, when writing to me, are about how their loved ones and friends may be affected by their breast cancer. They worry about the toll it will take on aging parents. Will their teenage daughters develop fears about their getting breast cancer in the future ? Will friends see them and treat them differently?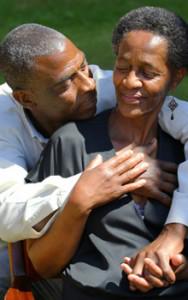 Still more women are anxious to hear how men feel about the physical changes that result from having breast cancer. Many women fear they will lose the affection of the men in their lives when their hair falls out from chemo and their breast is scarred by a lumpectomy.
Women facing mastectomies wonder if  they choose reconstruction will the new breast(s) look and feel natural to them and to their spouses or partners? If they choose not to get reconstruction will they be seen as disfigured?
Women need to know they will still be attractive and desirable.
When you share, in a  guest post, you will give hope to women and men visiting this site who have recently been diagnosed with breast cancer and are worried about how their loved ones will react to the news. You will also be helping the spouses, families and friends of those newly diagnosed who wants to be supportive and aren't quite sure how to go about it.
Stories from spouses and partners are especially needed.  Don't worry about your writing skills; just write…we'll edit for you.
Please share by sending  your guest post to [email protected]