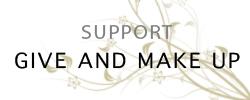 Each week two women in the United Kingdom are murdered by a partner or ex-partner.
One woman in four experiences domestic violence in their lifetime.
Refuge
and
Womens Aid
protect the lives of thousands of women and children every day.
Give and Makeup is a non-profit initiative whose sole purpose is to get everyday essentials into the hands of these women and children who need them the most.
What they need:
Everyday Essentials
shampoo
conditioner
bath/shower gel
deodorant
toothbrushes
toothpaste
body lotion
feminine hygiene products
shaving products
at-home hair dye colouring kits
Skincare
cleanser
toner
moisturiser
MakeUp
foundation
concealer
powder
blusher
eyeshadow
eyeliner
mascara
Tools
makeup brushes
makeup bags
hairdryers
curling tongs
straighteners
Clothing
bras
underwear (clean and useable!)
pyjamas
childrens clothing - anything
childrens pyjamas
Baby Products
all of them!
*Please note - they can only accept new items of anything with an applicator wand e.g. mascara/lip gloss/concealer. GWP (Gift with purchase) sizes are fine, as are samples.
Anything that has been lightly used is also fine - if you would happily give it to a friend - they'll take it!
For more information about how you can help please visit the
website
 -
I'm going to enquire as to why this is only women tommorrow!! There are many male victims of Domestic Violence!
PLEASE SHARE!!
Laters Peeps
Love Lainey x